This article was originally written as part of a series called "This Is My Canada", which featured a variety of bloggers talking about their top 7 sites in Canada. In all honesty, having visited each and every province and territory, coming up with a list of only 7 things is almost impossible. There are just far too many incredible things to do in Canada. However, I'm going to come up with what I feel are my top 7 things to do in Canada in hopes of inspiring you to visit this incredibly vast country.
The Canadian Rocky Mountains
Okay, so perhaps I'm biased because I live in Calgary, which is less than two hours away from this majestic place, but I can honestly say it's one of the most beautiful places in Canada, if not the world. Think about it. Mountains, lakes, turquoise-coloured rivers, scenic mountain towns, epic hikes, waterfalls, glaciers, and so much more.
First off, there's no better place for a Canada road trip. There's the drive from Calgary to Banff, Calgary to Vancouver, and Banff to Jasper via the world-famous Icefields Parkway. Some of Canada's most famous sites lie within the Canadian Rockies, including Banff National Park and Jasper National Park. Whether you only have one day to take it all in via a car or an entire month to partake in all the incredible outdoor activities, the Canadian Rocky Mountain Parks will become one of the beautiful areas you've ever seen.
This area is beautiful all year-round. In the summer, you'll find emerald-coloured crystal clear lakes, lush pine forest, world-class hiking, white water rafting, horseback riding, and the opportunity to walk on a glacier. You'll also find a variety of wildlife, including elk, deer, and bears. In the winter, however, the area is sparkling with white snow and frozen waterfalls. While summer activities are now over, winter activities are in full swing, including some of the best ice climbing, skiing and snowboarding this world has to offer.
Have I sold you yet?
For more articles on what to do in Banff National Park, check out these travel guides below:
Vancouver & Vancouver Island
Okay, I totally feel like I'm cheating now. I'm squeezing all of Vancouver and Vancouver Island into one TOP thing to do in Canada. I told you that choosing just 7 things would be hard to do. But don't worry. You'll thank me if you do BOTH Vancouver and Vancouver Island instead of just one (Although if you can just do one, make it Vancouver Island). Enough introduction, let's talk rainforests and cities!
Vancouver is the most beautiful city in Canada, if not the world. Sure, it has some rough edges (East Hastings, for example) but for overall beauty, it can't be beaten. Due to being one of the most densely populated cities on the continent, you'll find heaps of high-rise buildings surrounded by both tall mountains and the Pacific Ocean. You can also be walking around the concrete jungle one moment and out hiking in rainforests the next. It's that kind of city.
There are so many things to do in British Columbia's biggest city, including Vancouver whale watching, biking around Stanley Park, enjoying one of the top culinary scenes in the country, skiing one of the best mountain resorts in the world, or jumping on the ferry to Vancouver Island. Now, to truly enjoy Vancouver Island, you'll need a car. This way, after exploring the beautiful city of Victoria, you can head out to go surfing in Tofino, multi-day treks through the rainforest, or even watching Grizzly Bears catch salmon on a boat tour out of Campbell River.
There are way too many things to list here, but to give you more ideas for things to do around Vancouver and Vancouver Island, check out these travel guides below: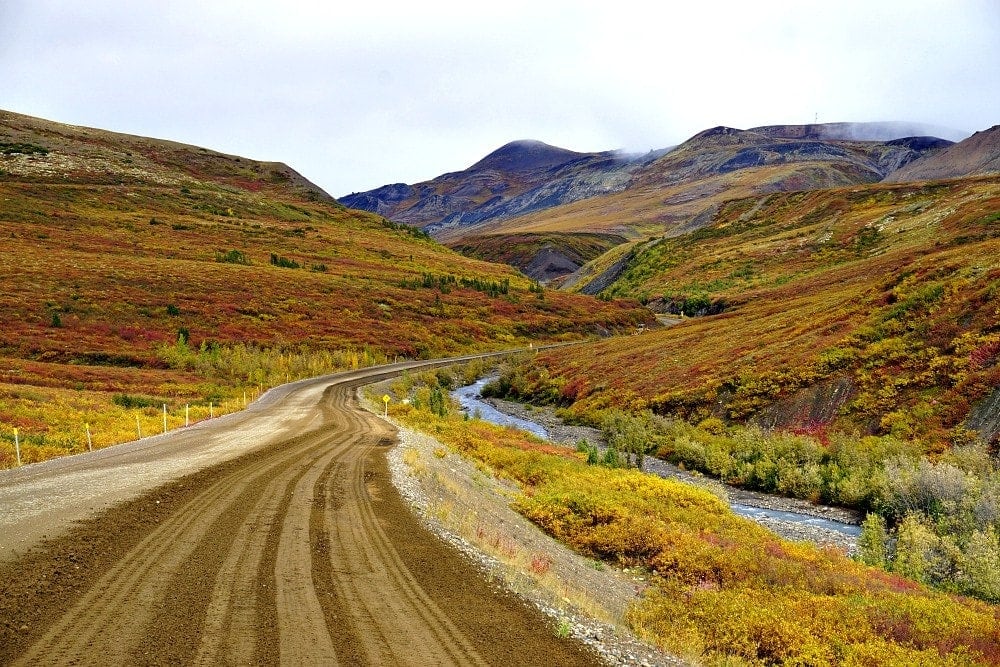 Northern Canada and the Northern Lights
This is probably the biggest region I've listed in this article. The reason I'm listing it as Northern Canada is because all of it is equally great and all of it is truly "off the beaten path". If you thought Canada was already north, imagine what Northern Canada is like. It's like two Europe's with almost no people. The Yukon has more wolves than humans. But it's not scary. It's beautiful. It's very, very, very beautiful. Toss in the Northern Lights and you have one of the most magical outdoor havens on Earth.
Probably the easiest of the three territories to visit is the Yukon. Home to Whitehorse, the biggest Northern city, the Yukon is a great place to explore Canada's far north. You'll find stunning Kluane National Park to the west (also home to Canada's most westerly point), which is not only home to camping and hiking but also where you'll find small planes waiting to fly you up and land on one the world's largest non-polar glacier. Then you have the Northern Lights, which can be seen from Whitehorse or anywhere in Canada's north. Then there's historic Dawson City, which was home to one of the largest gold rushes in world history. You can still go panning for gold, gamble in Canada's oldest casino, or drink a shot of whiskey with a human toe inside. Yup, you read that right. A human toe.
But that's just the Yukon. From Dawson City, you can attempt one of the most infamous road trips in the country – the Dempster Highway. This 700-km dirt road takes you into the Northwest territories and connected with Canada's first and only highway to the Arctic Ocean!
If you want adventure, this is where to have it. For more on Northern Canada, check out these travel guides below:
Newfoundland & the Maritimes
Newfoundland is one of our favourite destinations in all of Canada. It was the last province to join Confederation and is home to the most easterly point in the country. It's also the most unique province of them all with their own unique food, music, and culture. It's a very laid-back place with many small fishing communities separated by hundreds of kilometres of roads. In fact, some communities are not even connected by road and can only be visited by boat. It's also home to St. John's, which is the oldest English-founded city in North America, some of the most unique geology on Earth in Gros Morne National Park, and some of the most stunning ocean vistas you're eyes will ever set their sights on. Oh yes, Newfoundland is all that and much more.
However, the other Atlantic provinces, collectively known as the Maritimes, are also beautiful to visit. Nova Scotia is the most famous of the three and is home to a thriving tourism industry, which includes Halifax, Lunenburg, Cape Breton Highlands National Park, and the opportunity to raft the highest tides in the world. Then there's charming Prince Edward Island, Canada's smallest province, which is connected to the mainland by one of the longest bridges in the world. Here you'll find the charming story of Anne of Green Gables, pink sand beaches, delicious seafood, and even a Potato Museum. Then there's New Brunswick, which is Canada's only officially Bi-lingual province. Here you'll find beautiful Hopewell Rocks, the charming city of Fredericton, beautiful coastline, and even the world's largest pond hockey tournament in the small town of Plaster Rock.
Perhaps listing the entire east coast as a top thing to do is cheating. But oh well, live with it.
For more on what to do on Canada's East Coast, check out these travel guides below:
Montreal and Quebec City
Once again, I've gone and listed two major cities as one thing to do. Shame on me. But it's true, everyone loves the cosmopolitan city of Montreal and the incredible beautiful historic area of Quebec City. For those who don't know, Quebec is Canada's only officially French province. This is what makes it so unique. Montreal is one of the most famous cities in Canada and is often described as North America's slice of Europe. You can get a taste of history in Old Montreal or walk the more modern streets around the downtown core. You'll find some incredible bagels, poutine, and Montreal smoked meat, as well as some incredible museums, natural sites, and historic buildings like the Notre Dame Basilica.
Then there's Quebec City, which is just three hours north from Montreal. Home to the only fortified city north of Mexico, Old Quebec City is one place where you really will feel like you've stepped into medieval France. Whether you're popping into the most photographed hotel in the world (Chateau Frontenac) or browsing some of the oldest homes in Canada, you better have a big memory card to hold all the pictures you're bound to take. Even in the winter, Quebec City is a fantastic place to explore, thanks in part to both the Quebec Winter Carnival and the incredible Ice Hotel. If you do go in the winter, do not miss the experience of trying maple taffy!
For more on what to do in Quebec, check out these travel guides below:
Toronto and Niagara Falls
Even though we love the outdoors more than cities, we couldn't make a MUST DO CANADA list without mentioning it's biggest city and one it's most famous tourist attractions. For anyone who loves the city, Toronto is the place to go. Not only is it home to more than six million people and the widest highway in all of North America, it's also home to some of Canada's best museums, shopping. sports entertainment, and attractions. It's the only Canadian city that has both an MLB team (The Toronto Blue Jays) and an NBA team (The Toronto Raptors), not to mention the Toronto Maple Leafs, one of the most historic teams in the NHL. You'll also find the CN Tower, which is still one of the highest observation towers in the world, and Wonderland, which is Canada's largest amusement park. If you love rollercoasters, you'll love Canada's Wonderland.
Then, just over an hour away is world-famous Niagara Falls. Known as one of the world's seven natural wonders, Niagara Falls is incredible to admire. It's huge, it's powerful, and it connects the province of Ontario with New York State. Whether you see it from the boat or from the sidewalk, Niagara Falls is truly impressive. Sure, the city has become a major tourism attraction (casino's, etc) but you can also drive to nearby Niagara-on-the-lake and sample some of Canada's best wineries. Even better? Fly over Niagara Falls in a helicopter.
For more on Toronto and Ontario, check out these travel guides below:
Things to Do in Canada
You know what? Now that I've finished the article, I've realized even more that there's no way I can recommend just 7 things to do in Canada. It's impossible. Even with this list above, which is way more than 7 things to do, I missed out on some other classics. I didn't even mention Manitoba, which is home to Polar Bears and Beluga Whales. I didn't even mention Saskatchewan, which is home to epic wide-open prairies and badlands. I didn't mention the Dinosaur-encrusted valley's of Alberta or BC's Kootenay region. Then again, what about the beautiful city of Calgary, Winnipeg, and Ottawa. Ottawa is Canada's capital city and home to the beautiful parliament buildings. I give up. Canada is too beautiful. You'll just have to read the whole website. Sorry. (ugh, so Canadian).
For more THINGS TO DO IN CANADA, check out these travel guides below:
LIKE THIS POST? PIN IT!