Last updated: May 15th, 2022
Ontario is one of the biggest and most populated provinces in Canada and is home to some amazing cities, attractions, and nature. Ranging from the massive cosmopolitan city of Toronto to the scenic landscapes of Algonquin Provincial Park, there are so many things to do in Ontario. From kayaking next to loons to experiencing Canada Day on Parliament Hill, Ontario is definitely one of the most popular provinces to visit in Canada.
Some of the wonderful attractions in Ontario included taking a helicopter tour over Niagara Falls, visiting world-class museums in Toronto, enjoying the thrill of some of the world's best roller coasters at Canada's Wonderland, canoeing some of Canada's best lakes and rivers, and visiting some of Canada's top wineries, just to name a few.
Whether you're visiting in the summer or in the winter, looking to do one of the many Ontario road trips, or looking for the best activities and attractions for your next trip to Ontario, we've got you covered in this extensive guide to the best things to do in Ontario.
Travel Video: What To Do in Ontario
Back in 2017, we embarked on a 150-day road trip to celebrate Canada's 150th birthday. Since Ontario is home to the nation's capital, we made sure we were in Ottawa for July 1st to enjoy one of the biggest Canada Day celebrations Canada has ever had. But that's not all. We also visited many of the best museums in the country in Ottawa and in Toronto, went into an underground bunker that was built during the Cold War, enjoyed some of the best views of Niagara Falls thanks to a short cruise and helicopter ride, went canoeing in Algonquin Provincial Park, and sampled some of Canada's best wine. We've since been back many times to continue going deeper and deeper into the best things to do in Ontario, but that trip will forever be in our hearts. Watch the video above to see it all in action!
Things to Do in Ontario: Ottawa
Ottawa is a beautiful and vibrant city, which is also home to Canada's federal government. Here you'll find incredible museums, the Rideau Canal, Parliament Hill, and so much more. You can also walk across the bridge and visit Quebec!
Canadian Parliament Buildings
Without a doubt, the icon of Ottawa is Canada's parliament buildings. It's just one of those sights you simply shouldn't miss when visiting Canada's capital city. From the Clock Tower to the gothic architecture, the buildings are stunning to admire from the lawns in front of the building. In addition, if you want to go inside, you can take one of the free tours and learn about Canada's political system.
Rideau Canal
Located right next to the parliament buildings, the Rideau Canal is well worth a visit. In fact, it's hard to miss. This UNESCO World Heritage Site was actually built to protect against war with the USA but has now become a very popular spot with boaters, connecting the city all the way to Lake Ontario. While you're there, stop into the Bytown museum as well, which we'll talk more about below.
Bytown Museum
This great little museum is a great place to visit if you want to learn about Ottawa's history as well as the Rideau Canal, which is located right outside the front doors! There are a lot of cool artifacts and we learned so much about Ottawa and Canada's confederation.
Canadian Museum of History
This massive, fascinating museum explores Canada's 20,000 years of human history while offering some of the best views of Parliament Hill from across the river. Although it's actually located in Gatineau, Quebec, it's walking distance from Ottawa.
I really loved the strong emphasis on Canada's first peoples and learning about the aboriginal culture both before and after the Europeans arrived. It was also cool to learn about some of the most important moments from Canada's last 150 years.
Diefenbunker Canada's Cold War Museum
How often do you get to go into a massive 100,000-square-foot underground bunker built for a nuclear war? Well, a visit to the Cold War Museum allows you to do just that! Thankfully, this place was never used for its intended purpose and it's now the perfect location for the world's largest escape room, which we got to try out after our tour of the facility.
We loved running around an actual military bunker as if we were action heroes, solving clues with limited time. Very cool experience!
Nordik Spa-Nature
Although this spa is located in Chelsea, Quebec, it's only 20-minutes from Ottawa by car. As of now, it's North America's largest spa and it truly is an incredible place to spend the day. Think of it as a relaxing adult playground.
They have multiple steam rooms, a variety of hot and cold pools, a salt-water floating pool, fire pits, saunas, and so much more. We always spend a good 8 hours or more when we visit, taking the time to also indulge in a massage as well as some food and drink.
For more, check out our guide to the best things to do in Ottawa!
Fun Things to Do in Ontario: Niagara Falls
As one of the world's most popular natural attractions, Niagara Falls is a beauty to behold and one of the tourist attractions in Ontario. There are so many ways to experience the falls and we tried every possible way there is, except go over them in a barrel, which is not recommended.
Besides seeing the falls, there are lots of other things to do in the area, including wine-tasting and food tours in Niagara-on-the-Lake.
Niagara Helicopters
Helicopter rides are always awesome and you can probably imagine how cool it is to take a helicopter over one of the world's biggest waterfalls. We got a birds-eye perspective of the falls and the huge cloud of mist rising into the air. It really looked like a hole in the Earth. It's definitely a once-in-a-lifetime opportunity to see a former world wonder from the sky.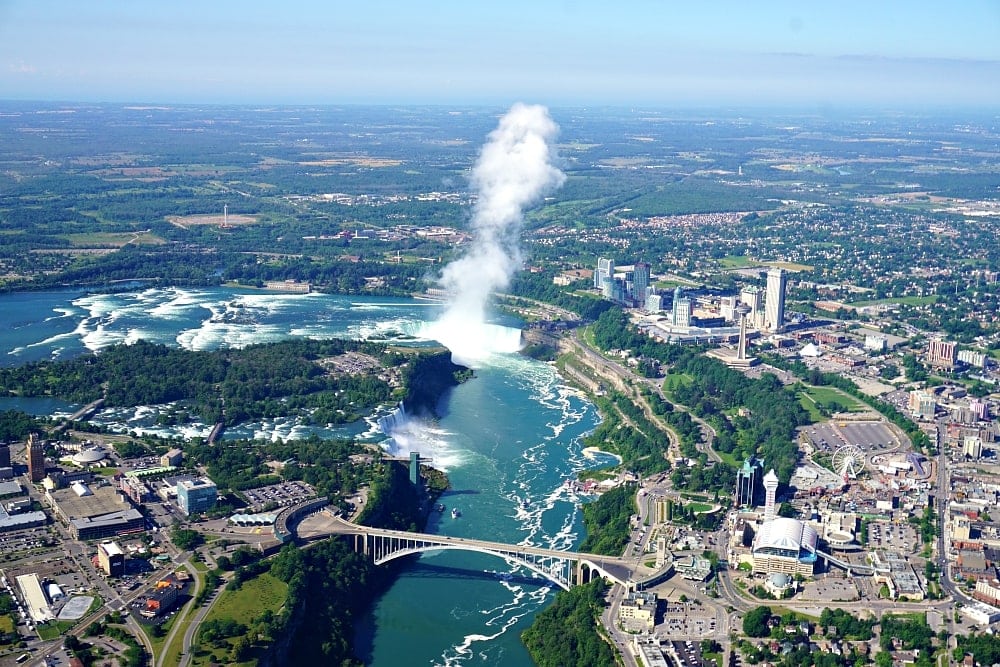 Journey Behind the Falls
This may just be my favourite way to see the falls. Not only do you get to go right beside the falls but you can also take your time to enjoy the view for as long as you want. It's really incredible to admire the falls from so close and if you'd like, you can also go down a tunnel and be just a few feet behind the falls, which is a good way to see just how powerful they really are.
Hornblower Niagara Cruises
There's a reason why taking a cruise into the mist has long been a favourite activity for visitors to Niagara Falls. The boat gets you super close to the bottom, allowing you to get soaked from the mist and experience the force while looking up as the water flows over the edge.
White Water Walk
Some people admiring the falls forget about the raging river it creates after the water makes its plunge. This walking path gets you right next to the river, allowing you to walk next to class-6 rapids and a raging river flowing along at around 40 km/h. The water is too dangerous for boats but is perfect to admire from the sidelines.
Whirlpool Aero Car
Another popular attraction in the area is the whirlpool, which is located downstream from Niagara Falls. Here you can take an antique cable car over the whirlpool to get beautiful views of the surrounding area.
Niagara Culinary Tours
If you're looking to sample wines and food, head to Niagara-on-the-Lake, a beautiful little town right on the edge of Lake Ontario and the U.S. Border. If you're looking to sample a variety of foods while learning about the history, take a food tour with Niagara Culinary Tours. We walked all over town with our guide, Chris, learning about the area's history while trying a variety of food, including Thai soup, beer and cheese pairings, and some of the town's famous desserts. It was awesome!
Butterfly Conservatory
Located just 9 kilometres (5.6 miles) north of Niagara Falls, this 99-acre Butterfly Conservatory is home to a 200-seat theatre, gift shop, and climate-controlled greenhouse. Most importantly, it's home to over 2,000 tropical butterflies from over 60 different species.
The conservatory glass dome is a whopping 11,000 square feet and is home to 180-metres worth of paths. Whether you're wanting to have a butterfly land on you or just admire them from a distance, this is the place to go.
Skylon Tower
If you're looking for a view somewhat similar to a helicopter, you might want to head up to the top of the Skylon Tower to see Niagara Falls from 520-feet above street level. The tower also has two restaurants at the top, including the Revolving Dining Room and the upper Summit Suite Buffet for those looking to have a bite to eat with an incredible view!
Niagara SkyWheel
Where else can you take a ride on a Ferris wheel while enjoying views of one of the world's natural wonders? This 175-foot (53.3 metres) tall Ferris wheel offers 42 fully enclosed passenger cars that each carry nine people for a 12-15 minute ride with views of Niagara River, Horseshoe Falls, and American Falls. In the winter, the cars are even heated whereas, in the summer, they are air-conditioned.
For a more exhaustive list of things to do in the area, check out our guide to the best things to do in Niagara Falls as well as our guide to the Best Views of Niagara Falls
Toronto, Ontario, Things to Do
Canada's biggest city is home to a vast amount of incredible museums, attractions, restaurants, and more. There's also a beautiful harbour, Toronto Island, and a multi-cultural scene unlike anywhere else in the country. We had only four days in the city and made sure to pack in as many things as we could.
CN Tower
The CN Tower dominates the Toronto skyline and is a great place to get a view of the entire city as well as Lake Ontario and Toronto Island. It might not be the tallest building in the world anymore but it's still an architectural marvel and a great place to go for sunset.
Royal Ontario Museum
This is the biggest museum in Canada and one of the biggest in North America. Home to more than six million items and 40 galleries, you could explore this place for days.
We happened to be there during a special exhibit called "Out of the Depths, the Blue Whale Story". This was incredibly interesting and beautiful and gave us insight into the world's biggest mammal. We saw the real skeleton and an actual heart, which is almost as big as a smart car! If you're interested in nature or history or art or almost anything else, this is the place to go.
Art Gallery of Ontario
This massive art museum consists of 480,000 square feet of space, housing around 95,000 works spanning the first century to the present day. It's one of the largest galleries in North America, including significant collections of Canadian art, Renaissance art, European art, African art, and a vast modern and contemporary collection.
You'll also find photography, sculptures, and other kinds of art such as miniatures, frames, books, film and video art, installations, architecture, and more. The Art Gallery of Ontario is the second most visited museum after Toronto's ROM and is recommended for anyone interested in, well, art!
Hockey Hall of Fame
For those interested in hockey or insight into the sport that Canada is most known for, head on down to the Hockey Hall of Fame. The beautiful building houses exhibits featuring players, teams, NHL records, memorabilia, and even trophies, including a replica of the Stanley Cup. There are even some interactive games where you can play games and test your hockey skills.
Tasty Tours Food Tour
The food tour with a sweet twist. If you're looking to try some interesting food while getting a taste for the culture, this is a great tour to take. I loved meeting the shop owners and learning their stories. In fact, that's what makes this tour special.
I enjoyed hearing about how the businesses got started and we actually ended up interviewing a lot of the people we met through this tour. Highly recommended!
Bruce Bell Historical Walking Tour
I really think historical walking tours are the best thing to do when you first arrive in a new city. They really help bring the city to life and that's what happened when we took a tour with Bruce Bell, a man well known for his incredible St. Lawrence Market tours. This is where Toronto got its start and it was so interesting to learn about the market and the surrounding area.
uFly Flight Simulator
I've been wanting to try a flight simulator for quite some time and finally got the chance in Mississauga! Home to North America's only 180-degree full HD screen to the fully motorized throttle quadrant of the 777-200LR in the country, this is one of the best public flight simulators in the world.
This is a really cool way to experience life as a pilot without actually leaving the ground. It's incredibly realistic and you get a real pilot next to you to help you take off, fly, and land while answering any questions you might have. This simulator is located in Mississauga and is a 40-minute drive from downtown Toronto.
Steam Whistle Brewery
As one of the most photographed places in Toronto, the Steam Whistle Brewery is a really cool place to visit in downtown Toronto. Take a tour, sample the beer, and learn about the history behind this really cool iconic Canadian-owned beer company. In fact, they're so cool that they even hosted our Road to 150 Toronto meetup! Thanks, Steam Whistle!
Casa Loma
It's hard to believe that a big city like Toronto is home to one of Canada's very few castles. While it's not really a "real castle", it is a Gothic Revival style mansion that was built back in 1911 by financier Sir Henry Pellatt.
Not only is it quite close to downtown Toronto but it also offers a beautiful view of the city, including the CN Tower. If you decide to take the popular Hop-on-Hop-off bus, this attraction is one of the stops.
Toronto Islands and a Toronto Harbour Cruise
The best way to see Toronto's stunning skyline is to go for a cruise along the harbour. This is also a great way to see the Toronto Islands, a chain of small islands in Lake Ontario that provides summer fun for locals and tourists alike.
The islands host a variety of hiking trails, picnic areas, beaches, yacht clubs, and even an airport. In addition, if you decide to take the popular Hop-on-Hop-off bus, this attraction is included in the price.
Canada's Wonderland
Located just outside Toronto in a suburb called Vaughan, you'll find the largest amusement park in Canada! In fact, it's one of the best amusement parks in the world, with more than 330-acres of excitement, including 70 attractions, 17 of which are roller coasters.
There's also a 20-acre water park and a month-long "Canada Day" celebration called Celebration Canada. For those seeking thrills, our favourite rides are Leviathan, Behemoth, and the new Yukon Striker, which is the world's tallest, fastest, and longest dive coaster.
For more, check out our ultimate guide to the best things to do in Toronto!
Things to Do in Sudbury, Ontario
If you're planning to drive west towards Manitoba or explore the Lake Superior region, you might end up in Sudbury. Here are some of the wonderful things you can do.
Visit the Big Nickel
If you love huge roadside attractions, this is one you don't want to miss out on. This nine-metre high nickel is the city's most famous landmark. And is a replica of a 1952 Canadian nickel, which can be found on the grounds of the Dynamic Earth science museum, which we talk about below.
Explore Dynamic Earth
After looking up at the giant nickel, head in and explore Dynamic Earth, an interactive science museum focusing on the city's mining history. This is the city's top attraction and is operated by Science North, another one of the top things to do in Sudbury. It's an interactive science museum established in 2003 that focuses on the city's mining history. Dynamic Earth has a wide variety of displays and exhibits where the kids can learn how to mine, climb a mineral wall, look at diamonds, and identify different minerals. There are gold panning experiences and displays of fossils and meteorites. They can also go on an underground tour of the mines that takes them deep into the earth and displays the work done by the miners over the years, as well as the technological changes that have taken place. There is also a giant sandpit complete with manually operated diggers, and huge mining machinery they can climb around.
Lake Laurentian Conservation Area
This 97-hectare Lake Laurentian Conservation Area stretches from Lake Ramsey to the Southeast Bypass, creating an excellent conservation area filled with lakes, trails, and wildlife.
It's a lovely place to get into nature and consists of many hiking trails or even cross-country skiing trails in the winter. It's also great for bird-watching. In addition, we totally recommend visiting the A.Y. Jackson Lookout to see the impressive 55-metre cascading Hall Falls.
Go Snowmobiling
It's not tough finding fun things to do in Ontario, Canada. Take this wonderland adventure for example. If you happen to be in Sudbury during the winter, the city has one of the largest groomed snowmobile trails in the world, with over 1,200 kilometres of trails connecting several communities.
These are maintained trails, complete with parking, washrooms and designated rest areas. You can even stay in lodges along the way!
Thrilling Stuff to Do in Ontario: Kingston
Another popular city is Kingston, which is just 2.5 hours east of Toronto by car and just 2 hours south of Ottawa. It's located right on Lake Ontario and has a beautiful historic waterfront core. You can also arrive via the ViaRail train or the regional airport.
Take a Kingston Trolley Tour
One of the most popular things to do in Kingston is to take a tour on the red Trolleys, a "hop-on-hop-off" style tour that takes you to all the city highlights. The trolleys have live commentary from the driver and/or audio guide, which also makes it a great way to learn about the historical points of the city.
Take a 1000 Island Boat Cruise
Another awesome thing to do around Kingston is to visit the 1000 Islands via the 1000 Island Boat Cruise. This is one of Canada's national parks and is both a historic waterway and a beautiful place. There are many different boat tours, some of which are short and some of which are long. You can even take a sunset dinner cruise if you want to enjoy the sunset and a delicious meal.
Go Shopping on Princess Street
Since many people love to do some shopping when they travel, the place to do so in Kingston is Princess Street, which cuts right through downtown and proceeds right to the waterfront. There are many shops here, including local food and artisan crafts and clothing, and it's also a beautiful area to just walk around and enjoy.
Visit Historic Fort Henry
If you're up for some military history, you'll want to visit the UNESCO World Heritage Site of Fort Henry. This fort is actually part of a larger historical site known as the Kingston Fortifications National Historic Site.
This site includes the old fortifications around Kingston Harbour and the entrance to the Rideau Canal. It also includes the historic Shoal Tower (located in the waterfront downtown), the Murney Tower, and the tower/walls of Fort Frederick.
Other Cool Places to Visit in Ontario
While so many tourists go to the main areas of Toronto, Ottawa, and Niagara Falls, there is SO MUCH MORE for those wanting to get deeper into the province and see some of its more natural beauty. Here are some Ontario highlights and ideas for your next road trip around the province.
Algonquin Provincial Park
Algonquin Provincial Park is a beautiful slice of nature just a couple of hours north of Toronto. It's a great place to go canoeing, kayaking, fishing, or hiking. In the fall, it's one of the most spectacular places in Canada to witness the changing fall colours and it's one of the most popular places to go camping in Ontario.
During our brief two nights in the park, we stayed at Arowhon Pines, a luxurious rustic lodge overlooking a lake with gourmet food served three times per day. We spent our days canoeing next to loons, paddle boarding around the lake, and jumping off the dock and into the water before watching the sunset and sitting next to the fire inside our lodge.
Getting to Ontario Canada
There are many ways to get to Ontario, including cars, buses, trains, and planes. Some people even arrive by boat from other parts of Canada.
Getting to Ontario by Plane
Ontario is home to some of Canada's biggest cities and a variety of airports. The most popular options for arrival are the four international airports in Toronto, Ottawa, London, and Thunder Bay. Most tourists will likely arrive in either Toronto or Ottawa. There are also a number of other airports as well.
Toronto Pearson International Airport: Toronto's airport is one of the busiest airports in the world and is definitely the busiest in Canada. More than 180 destinations around the world are served from this airport via 65+ airlines. Being in Toronto, Toronto Pearson is connected to major highways, public transportation systems, rental car companies, express trains, taxis, and more. It's also a 30-minute drive from the US border.
Ottawa International Airport: Serving more than 4.5 million passengers each year, Ottawa is also one of Canada's busiest airports. The airport is home to 11 airlines and is only 20-minutes to Canada's capital city and only a two-hour drive from Montreal, Quebec.
London International Airport: London's international airport is located near the city of London, Ontario. It's also one of Canada's busiest airports and serves five different airlines with direct flights to 14 destinations.
Thunder Bay International Airport: Ontario's Thunder Bay airport is on the other side of Lake Superior, almost a 15-hour drive from Toronto. It serves around 700,000 passengers annually.
Getting to Ontario by Car
If you're driving to Ontario, the province is bordered by Manitoba to the west, Quebec to the east, and the US to the south. It's a massive province, taking close to 24-hours of driving to cross from west to east. The busiest area is the Toronto-Niagara-Ottawa corridor, which is at the far southeastern edge of the province. The rest of the province (to the north and to the west) is largely made up of forests, lakes, and smaller communities.
The Trans-Canada Highway crosses through the province, providing an easy way to navigate from east to west (and vice versa). It's a great place for a Canada road trip, whether you decide to explore only Ontario attractions or other nearby provinces as well.
If you need to rent a car, there are many options, including Avis, Budget, Discount, Dollar, Hertz, National and Thrifty.
There's also a variety of taxis, as well as Uber and Lyft.
Getting to and Around Ontario by Bus
Just like cars, Ontario is easily visited by bus. There are a variety of bus lines offering service throughout the province including:
Greyhound: This bus company services all regions of the province.
Ontario Northland: This bus company services Toronto, Central Ontario and Northern Ontario.
Gray Line: This bus company provides sightseeing tours in Niagara Falls, Toronto, and Ottawa.
Coach Canada: This bus company services Windsor to Montreal along the 401 corridors.
Parkbus: This bus company services between Toronto and Ottawa and various provincial and national parks.
GO Transit: This is the regional public transit service for the Greater Toronto and Hamilton Area.
Getting to and Around Ontario by Train
Ontario is home to the VIA Rail lines, which offer services to and from the province, but there are also regional train lines as well.
VIA Rail Canada: This company offers passenger service in the Greater Toronto Area, Ottawa, Niagara Falls, Southwestern Ontario and Northern Ontario, with express service available between larger communities on most routes. You can also go to other provinces across Canada.
Ontario Northland: This company's Polar Bear Express train provides service from Cochrane to Moosonee.
Agawa Canyon Train Tour: Algoma Central Rail offers popular train excursions through the spectacular scenery of Algoma Country.
Union Pearson Express: This service is an innovative air-rail link connecting Toronto Pearson International Airport and Union Station in downtown Toronto. For groups of 50 or more please complete the on-line form for special rates.
Getting to and Around Ontario by Boat
Ontario is also accessible by boat, although only from within Canada. There are a couple of ferry services you can make use of, including:
Chi Cheemaun: This ferry runs between Tobermory and South Baymouth on Manitoulin Island.
Glenora: This ferry connects Glenora and Adolphustown in Eastern Ontario.
Pelee Island Ferry: This ferry runs between Leamington or Kingsville and Pelee Island in Southern Ontario.
Toronto Islands: This ferry departs from the downtown Toronto docks and services the Toronto Islands.
Wolfe Island: This ferry connects Kingston and Wolfe Island in Eastern Ontario.
Best Time to Visit Ontario
Ontario can be hot and humid in the summer and freezing cold in during the winter in Canada. Timing your visit will likely depend on what you're interested in doing and what you're comfortable with.
If you'd like to experience snow and/or partake in winter festivals or winter activities in Ontario, then you'll want to come sometime between December and March. Other advantages to this time include fewer visitors and cheaper hotel prices.
If you'd rather experience hot temperatures and a wider array of Ontario activities, you may want to visit during Canada's warmer months from May until September. The hottest months are July and August, which also happen to be the busiest months. Spring can also be nice and during the fall season around October, Ontario is home to some of the best fall colours in Canada.
Either way, travel in Ontario can be done all year-round, especially in cities like Ottawa and Toronto. In the summer, temperatures can reach as high as 40 degrees Celcius whereas the winter can bring temperatures of -20 degrees Celsius or even colder if you travel to the northern part of the province. However, as the saying goes, there's no such thing as bad weather, only bad clothes.
Fun Facts About Canada Ontario
Toronto is now known as the most multicultural city on Earth.
St. Lawrence Market in downtown Toronto is known as the best food market in the world.
One of the main reasons Ottawa was chosen as Canada's capital is due to its proximity to both English and French Canada.
Toronto is home to Canada's only NBA and MLB sports teams.
With more than 250,000 lakes, Ontario is estimated to have 20% of the world's freshwater stores.
Horseshoe Falls (part of Niagara Falls) is the most powerful waterfall in North America by volume and is often cited as one of the world's natural wonders.
Want more? Check out our guide to the best Ontario facts.
Final Thoughts on What to Do in Ontario, Canada
As you can see in the video, we had a great time in Ontario. There are so many things to do in this massive province, including big-city entertainment and boundless nature. From massive waterfalls and beautiful lakes to vibrant multicultural cities and international cuisine, Ontario is a really cool province to explore.
For more cool things to do in Ontario and beyond, check out our other articles below:
Bonus Fun Fact: There's actually an Ontario historic site located outside of Canada! It's called Wolford Chapel and it's located in Devon, England.
LIKE THE ARTICLE? PIN IT!