Calgary Restaurants Guide last updated: April 7, 2023
If you're looking for some of the best Calgary restaurants to delight your tastebuds, you've come to the right place. With Must Do Canada headquartered in Calgary, we know this city like the back of our hand.
From fine dining and Canadian cuisine to hip new joints and ethnic delights, there are plenty of places to feed your belly. Through first-hand knowledge (fancy word for stuffing our faces), review sites, and restaurant guides, not to mention feedback from our own audience, we've come up with this list of 40 restaurants in Calgary that you really need to try.
Make a day out of it by selecting some of the top things to do in Calgary mixed in with some of our favourite Calgary restaurants. You won't be disappointed. Let's go!
River Café
Location: 25 Prince's Island, Calgary.
We'd be remiss to create a guide to the best Calgary restaurants without featuring River Café. Not only is it ranked as one of the top 20 restaurants in Canada but it also has the best location in the city, surrounded by trees, flowers, and the Bow River within Prince's Island Park. Opened in 1991, River Café has also stood the test of time, with an ever-changing menu featuring local and sustainable cuisine.
The interior also moulds its way nicely into the surrounding area with a fieldstone fireplace, an open kitchen, a bar made from a real boat, and even a canoe that hangs from the ceiling. Whether you're looking for breakfast, lunch, or dinner, you won't be disappointed.
Bridgette Bar
Location: 739 10 Ave SW, Calgary.
It's not very often that we remember something we ate years ago, but when it does happen, that means it was really, really good. Bridgette Bar is one of those Calgary restaurants, thanks in part to their creamy Smoked Potato Purée, delicious Maple BBQ Rainbow Trout, and exquisite cocktails to wash it all down with
This chef-driven Calgary restaurant is located in Calgary's Beltline neighbourhood and features an interior inspired by the movers and shakers of the 1960s and '70s, including a mid-century cone wood-burning fireplace, an abundance of hanging plants, macramé, art, and even wall-mounted motorcycles. Open for lunch, dinner, and late-night snacks, this is one of the top Calgary restaurants that you don't want to miss!
Major Tom Bar
Location: 700 2 St SW #4000, Calgary.
As one of the newest kids on the block, Major Tom Bar has become a major hit as one of the best Calgary restaurants to experience. This stylish bar boasts stunning sleek decor and a truly amazing menu that has helped it become one of Canada's best new restaurants.
It can take weeks to get a reservation here but it's worth it. Located on the 40th floor of Stephen Avenue Place, the views are just as outstanding as the food and drink. Sit down and enjoy one of their many hors d'oeuvres, appetizers, salads, pasta, mains, and desserts, while also sipping back on one of their many tasty cocktails such as the Strawberry Negroni, Saskatoon Sunrise, or their Apple Vodka Old Fashioned.
Foreign Concept
Location: 1011 1 St SW, Calgary.
What do you get when you mix French cooking techniques with Chinese and Vietnamese roots topped with Korean culture? Well, you get Foreign Concept, an award-winning restaurant in Calgary's Beltline neighbourhood.
Some of the Pan Asian flavours you'll find here include Beef Bulgogi Sliders, Squid Ink Spaghetti, Cumin Lamb Lollipops, and Steelhead Trout Cha Ca La Vong, which comes with Scallion Rice Noodles, Dill, Turmeric, and Chili Shrimp Paste.
Orchard Restaurant
Location: 620 10 Ave SW #134, Calgary.
If you're looking for a truly beautiful place to eat in Calgary, look no further than Orchard Restaurant. Decorated with chandeliers, modern furniture, and lots of plants, Orchard Restaurant takes Asian Mediterranean dining to the next level, creating an atmosphere of casual elegance.
The entire restaurant has been crafted to provide guests with an immersive experience from entry to exit, delivering separate yet related spaces within one all-encompassing environment. Open for lunch and dinner, there's a variety of interesting dishes to choose from, such as the Soy Glazed Sablefish, Crispy Braised Pork Belly, Watermelon Salad, and Rougie Duck Breast, just to name a few.
CRAFT Beer Market
Location: 345 10 Ave SW Calgary (and many others)
What started out as one location in downtown Calgary back in 2011 has turned into a nationwide restaurant chain with locations in Edmonton, Victoria, Kelowna, Vancouver, Ottawa, and Toronto, which means it's no longer just one of the best Calgary restaurants.
Although we really love their Ahi Poke Bowl (sashimi grade ahi tuna, cucumber, fresh ginger & garlic sesame-soy vinaigrette, togarashi aioli) and their mouth-watering Crispy Chicken Sandwich (naturally raised American-style fried chicken, hot sauce, maple syrup), what really sets CRAFT Beer Market apart is their open and fun atmosphere and their selection of over 100 beers on tap in each one of our restaurants. They were at the forefront of the evolution of the craft beer market, educating the world about craft beer and culture while serving up tasty food to pair with it. If you're looking for a lively atmosphere with good food and beer, this is the spot.
Last Best Brewing & Distilling
It's not too often that one of the top breweries in Calgary is also one of the top restaurants, but Last Best Brewing & Distilling has done just that. Recently named one of the top 100 restaurants in Canada, and located in the bustling Beltline district, this brewpub features a 360-degree bar surrounded by dining booths, a semi-covered patio and a basement nook serving up tasty cocktails.
We recently visited this brewpub before attending an Imagine Dragons concert and tried a variety of dishes that were all delicious. We started off with their Sweet and Spicy Pork Dry Ribs, with come with Szechuan peppercorn rub and kimchi pickled cucumber before moving on to their mains, including Roasted Chicken and Squash Pot Pie and their Last Best For You Bowl, a popular rice bowl that comes in a variety of flavours including Masala grilled chicken, salmon, shrimp, or tofu. Both meals were really tasty, especially when washed down with local craft beer.
Teatro Restaurant
Opened way back in 1993, Teatro has become a mainstay, standing the test of time as one of the best Calgary restaurants. Located right off Stephen Avenue and next to beautiful Olympic Plaza, Teatro serves up mouth-watering Contemporary Mediterranean Cuisine that is largely created from organic and/or local ingredients, except of course for those certain Italian specialties that just can't be found here, such as the extra virgin olive oil that comes from owner Dario Berloni's family olive groves in Italy's Marche.
Their exquisite seasonal menus, which feature dishes such as Ravioli Solari and Wagyu Striploin, can be paired with their award-winning wine cellar strongly rooted in the wines of Italy and Bordeaux.
NOtaBLE Restaurant
Location: 4611 Bowness Rd NW #133, Calgary
Creating Canadian fare with inspiration from all over the world, NOtaBLE Restaurant is known as one of the best Calgary restaurants, serving grilled meats, pasta, and seafood in a casual and chic family-friendly dining atmosphere.
Open for lunch, dinner, and weekend brunch, they offer a variety of mouth-watering meals such as Alberta bison carpaccio, baby kale salad with stone fruit, seared duck breast, and heir Alberta lamb shank, just to name a few.
Model Milk
Location: 308 17 Ave SW, Calgary
Serving food that is both classic and original, as well as innovative and comforting, Model Milk has risen to be one of the best Calgary restaurants. Located on trendy 17th Ave, not far from the Saddledome and Stampede Park, they have one of the most innovative menus in the city, creating dishes such as charred shishito peppers, mortadella and cheddar donuts, hand-rolled ricotta cavatelli, and charcoal grilled Alberta Striploin, just to name a few.
They also take local and regional products to the next level, bringing in whole animals, butchering them on site, and making use of every part. They even transfer this philosophy to their selection of wines, such as supporting vineyards that practice organic, bio-dynamic and natural winemaking.
Park by Sidewalk Citizen
Location: 340 13 Ave SW, Calgary
Located in one of Calgary's most beautiful settings and inspired by the bustling food markets of Israel and the Mediterranean, Park by Sidewalk Citizen has become one of the top Calgary restaurants. Their lovely solarium can be found right next to Central Memorial Park, creating the perfect atmosphere to enjoy brunch, dinner, and snacks such as smoked salmon benedict, shakshuka, herb and lemon falafel, stuffed chicken wings, and beef bavette.
Native Tongues Taqueria
Location: 235 – 12th Ave SW, Calgary
Although you'll never find a Mexican restaurant in Calgary that rivals those in Mexico City, Native Tongues Taqueria certainly comes close. Opening in 2015, their authentic Taqueria in Victoria Park has become a local favourite, serving up delicious Mexican cuisine with a bar program centred around Mezcal, one of the world's most distinct and diverse spirits.
Chilaquiles Morita, Ceviche de la Torre, and Tacos al Carbon are just some of the dishes people flock to, but their happy hour from 2-5 pm on weekdays is a big hit, with specials on select dishes and drinks.
Shokunin
Location: 2016 4 St SW, Calgary
If you're looking for delicious Japanese food in a sleek, stylish setting, look no further than Shokunin. We were here when they helped launch Ol' Beautiful Brewery's Okami Kasu (a Japanese-style lager made with Saké Kasu) and all the food we sampled was truly delicious. Located in the beautiful, Chef Darren MacLean (the only Canadian to compete in the Netflix hit The Final Table) uses Japanese culinary techniques with seasonal ingredients to create tasty dishes such as yakitori (grilled chicken on a skewer), bison tataki, eggplant and goat cheese tempura, or a hot bowl of ramen.
SS106 Aperitivo Bar
Location: 824D Edmonton Trail, Calgary
Launched in 2016, SS106 Aperitivo Bar brings a modern style of Italian dining with authentic flavours, serving a variety of starters, salads, boards, platters, pasta, pizzas, entrees, wine, and cocktails.
Open for lunch, dinner, and drinks, it's a great date spot to bring your friends and is home to one of the best selections of Italian wines in the city.
Alloy
Location: 220 42 Ave SE, Calgary
If you're looking for one of the best fine-dining restaurants in Calgary, head to Alloy. Inspired by their respective Mediterranean and Latin heritages, as well as world travel, chefs/owners Uri Heilik and Rogelio Herrera, combine their backgrounds with Asian flavours to create a menu and atmosphere that represents a harmonious culinary adventure that will leave a lasting impression. Combined with a beautiful interior and dishes such as their koji chicken sandwich, short rib enchilada, and beef tenderloin with squash risotto, you won't be disappointed.
Chairman's Steakhouse
Location: 2251 Mahogany Blvd SE, Calgary
When it comes to the best restaurants in Calgary, it's not too often you find them in the suburbs. However, Chairman's Steakhouse, with its location in the deep southeast community of Mahogany, changes that concept with its high-end steak house that focuses on refined food and refined service.
Chairman's Steakhouse is a tribute to an iconic era with subtle nods to the infamous Rat Pack and the classic image of the fedora, with understated final touches that are distinctly Albertan. The waitstaff is formally dressed in tuxedo-style uniforms and the food, which is in partnership with the team behind Vintage Chophouse, falls into the mid-century luxury category, with tasty bites like truffle deviled eggs with caviar, tiger-prawn cocktails, oysters Rockefeller and, of course, Prime steaks cooked to order. Pair those delights with one of its 4,000 bottles of wine, and you'll be in good hands.
Santorini Greek Taverna
Location: 1502 Centre St N, Calgary.
When it comes to Greek restaurants in Calgary, you can't miss Santorini Greek Taverna, which has been a Calgary staple for more than 30 years, dedicating itself to the incredible flavours of Greece. It's known for its fun and welcoming atmosphere, in addition to its delicious food, such as kalamari, spanakopita, Papoutsakia (roasted zucchini stuffed with beef), mithia (mussels sautéed in butter and fresh tomato), soutzoukakia (lightly spiced meatballs), and many types of souvlaki.
Pizzeria Gaga
Location: 1236 12 Ave SW, Calgary.
With almost a perfect 5-star score on Google Reviews, Pizzeria Gaga is not only one of the best pizza restaurants in Calgary, but also one of the restaurants in general. Known for their delicious thin-crust pizzas, they take pizza creativity to a new level with ingredients such as figs, apples, and walnuts. Even if you're not in the mood for a pizza pie, they have some amazing soups and sandwiches as well.
JinBar
Location: 24 4 St NE, Calgary.
With fierce passion and a natural talent for cooking, Chef Jinhee Lee inspires innovative culinary creations at JinBar, pushing it to become one of the best Calgary restaurants. Originally from South Korea, Jinhee Lee has won many awards for her culinary arts, including Avenue Calgary's Top 5 People to Watch in Calgary's Food Scene in 2016, winner of the 2012 Calgary Stampede Dueling Chefs competition, and was the only female chef at the 2015 Gold Medal Plates competition, and much more.
With all that skill and finesse, JinBar has become a fun and lively restaurant with Korean-style tapas, innovative cocktails, fried chicken, Korean Beef Bulgogi pizza, Braised Pork Belly taco, and more.
Rouge Restaurant
Location: 1240 8 Ave SE, Calgary.
Set in an 1890s heritage-style home near trendy Inglewood, Rouge Restaurant is one of Calgary's premier fine dining establishments, bringing Farm, Garden, and Forage to Table cuisine to your tastebuds. Known for their one-of-a-kind ambiance, their mostly French-inspired menu features dishes such as smoked duck with roasted parsnip, rabbit two ways, and sous vide beef tenderloin mignonette.
They also offer a popular tasting menu of six courses and a vast selection of wines and cocktails.
Roys Korean Kitchen
Location: 2024 4 St SW, Calgary.
If Korean food is on your mind, you might want to head over to Roys Korean Kitchen, which serves deliciously elevated Korean cuisine out of its high-energy open kitchen. Located in Mission, one of Calgary's top communities, you can expect a wide variety of food for all palates, including soy maple brussels sprouts with double-smoked bacon, black garlic-steamed Salt Spring Island mussels, and spicy salmon tacos.
Carino "Japanese Italian Kitchen"
Location: 2210 4 St SW, Calgary.
I never imagined Japanese and Italian food coming together so elegantly, but with so many rave reviews, Carino has obviously made it happen. A hidden gem in Calgary's bustling Mission neighbourhood, Head Chef and Owner, Toshi Karino, has created a collision of Italian and Japanese cuisines that are elegant, fun, approachable, and enjoyed by all. There are many items to choose from, such as Pan-Seared Scallops with Shimeji-Mushroom Risotto, Pescatore with Curry Risotto, Bucatini with Wagyu Meat Sauce, and hot bowls of Ramen!
Vero Bistro Moderne
Location: 209 10 St NW, Calgary.
When you're consistently ranked as one of the top restaurants in Calgary and in Canada, you know you're doing something right. With a sleek modern dining room, locally sourced and organic ingredients, and a reputation for great customer service, Vero Bistro Moderne showcases the best of Italian, French, and Spanish cuisine. In fact, Chef Jenny travels to Europe every year not only to learn from great European chefs but also to get thoroughly acquainted with the traditional cuisines of those three regions.
Open only for dinner, you'll find all sorts of options for tantalizing your tastebuds, including Hand Cut Beef Tenderloin Carpaccio, their Signature Sweet Potato Gnocchi, and Pan Roasted Wild Sockeye Salmon, just to name a few. There's also an option for a family-style chef-selected dinner with a wine pairing.
The Himalayan
Location: 3218 17 Ave SW, Calgary.
Having lived near this Calgary restaurant for many years, I can tell you that it's always busy. We've also been to Nepal, so we can tell you that Nepalese food is delicious! Travelling to Nepal is quite the journey though, so taking your tastebuds on a journey to The Himalayan is much easier.
The best way to start an authentic Nepalese dinner is with a plate of momos (dumplings) before digging into one of their tasty mains, such as Nepalese curries, stir-frys, cream curries, or one of their clay-oven roasts.
Ten Foot Henry
Location: 1209 1 St SW, Calgary.
In a city known for steak, vegetarians can rejoice in Ten Foot Henry, a very popular all-day Calgary restaurant that serves a vegetable-anchored menu. Open from 11 am to 11 pm every day, this restaurant serves up delicious cuisine in a bright, open family-style atmosphere. Some popular items include marinated beets, cauliflower with spicy gochujang sauce, tagliatelle with kale pesto, tuna crudo with chimichurri (the menu isn't only vegetarian), and avocado toast with hollandaise.
Minas Brazilian Steakhouse
Location: 136 2 St SW, Calgary.
Switching to the complete opposite of vegetarian cuisine is Minas Brazilian Steakhouse, a cuisine that is known for its very plentiful portions of meat. In fact, for those who haven't dined in a Brazilian restaurant before, it's very meat-forward, with endless tableside carved meats served until you can't handle anymore.
Bringing you the traditional cuisine from the heart of Southeast Brazil, their delicious selection of meats is complemented by a wide variety of tasty dishes such as farofa (toasted cassava flour), fried plantains, and black beans stew.
Nupo
Location: 631 Confluence Way SE, Calgary.
If you're looking for a mix of fine dining and sushi, look no further than Nupo. While the décor is quintessential Alberta, with highlights of birch, shale, and burnt woods, this Japanese-style restaurant in Calgary's East Village celebrates plant-forward, vegan cuisine paired with incredible sushi—both fresh and aged in our specialty, unique in Canada, dry aging chamber.
The restaurant is quite intimate, allowing both a la carte dishes and the traditional Omakase sushi experience, which allows you to sit at the 6-seat sushi bar and watch the sushi chef prepare your nigiri with fine precision.
Eight
Location: 631 Confluence Way SE, Calgary.
If both Shukinin and Nupo caught your eye, you might want to dine at Eight, another fabulous Calgary restaurant created by Chef Darren MacLean. Found inside the trendy Alt Hotel in Calgary's East Village, Eight elevates the dining experience even further, as it literally only sits eight people and is only offered seasonally. This exclusive restaurant used only the finest seasonal ingredients and creates an experience that lasts an entire evening, focusing on Canadian cuisine with flavours found from across the nation. As you may have guessed, this unique Calgary restaurant carries a high price tag but is also considered a once-in-a-lifetime dinner.
Sukiyaki House
Location: 207 9 Ave SW #130, Calgary.
If you're looking for the finest authentic Japanese cuisine, all created by Osaka-born Koji Kobayashi, make sure you add Sukiyaki House to your foodie bucket list. Having worked for some of the most illustrious restaurants in Japan, this is as authentic as it gets.
Located in Pennwest Plaza, Sukiyaki House is one of the best sushi restaurants in Calgary and is known for its modern and minimalistic approach, offering an exquisite selection of wine and sake, in addition to sushi and Japanese entrees, such as miso sablefish, Wagyu beef tataki, shabu-shabu hot pot, sashimi dinner, and all sorts of sushi.
D.O.P.
Location: 1005A 1 St SW, Calgary.
If you're looking for an exquisite Italian dining experience, check out D.O.P, which stands for "Denominazione d'Origine Protetta" (Protected Designation of Origin), which is only given to the food products that are traditionally produced, processed, and packaged in a specific part of Italy. As you can glean from the name, this restaurant serves only the finest Italian ingredients.
The menu is sure to please anyone seeking the Italian vibe, with items such as smoked olives, white anchovy, raviolo, hand-rolled spaghetti, and veal chop Milanese. Open only for dinner, reservations are required. Buon Appetito!
Paper Lantern
Location: 115 2 Ave SE Basement, Calgary.
Wherever you are in the world, it's always the places that are tucked away that seem to be some of the best places to eat at. Such is the case at Paper Lantern, a tropical Vietnamese restaurant tucked away in a basement in Calgary's Chinatown.
In addition to the mouth-watering menu, which includes dishes such as pineapple stir-fry with pork belly mango salad, and Vietnamese subs, this cocktail bar is also known for its drinks, such as Saigon Sling and the Banana Old Fashioned. Open from 5 pm until late, this is a great place to bring some friends, share some plates, and have a good night.
Hy's Steakhouse & Cocktail Bar
When it comes to mouth-watering steak and an upscale atmosphere, it's hard to beat Hy's Steakhouse & Cocktail Bar. Dark mahogany, rich colours and textures, and intimate lighting combine to create an upscale, luxurious atmosphere for a Canadian steakhouse that's been serving the Calgary area for more than 65 years.
Featuring Prime Grade steaks, cold martinis, fresh seafood, and trademark warm hospitality, Hy's is a dining oasis. Plus, even though this is one of the best Calgary restaurants when it comes to streak, Hy's is also located in Toronto, Winnipeg, Vancouver, and Whistler.
Posto Pizzeria & Bar
If you're looking for a delicious slice of pizza pie, Posto Pizzeria & Bar should be high on your list. This is a Calgary pizza restaurant where you'll want to eat your crust, as it's all made in-house with the finest locally sourced ingredients. In fact, if you come between 9 pm and 10 pm, all pizzas are half-price until the dough runs out!
However, it's not just pizza. They also serve pasta, salads, appetizers, and much more, all in addition to an array of daily specials and happy hour.
Niko's Bistro
After Croatia's War of Independence, Niko left his hometown of Dubrovnik with dreams of a better life for his young family. He got his start by washing dishes in one of the top Calgary restaurants before moving his way up in the culinary to becoming Head Chef and eventually, owner of Niko's Bistro.
Located in the beautiful community of Kensington, just down the road from the lovely Jubilee Auditorium, Niko's Bistro offers a diverse menu with big flavours at modest prices. Some of the dishes that we can't wait to try, include their Gamberi Sambuca, Cod Pizaiolla, Gnocchi Arabiata, and their Pollo Parmigiana.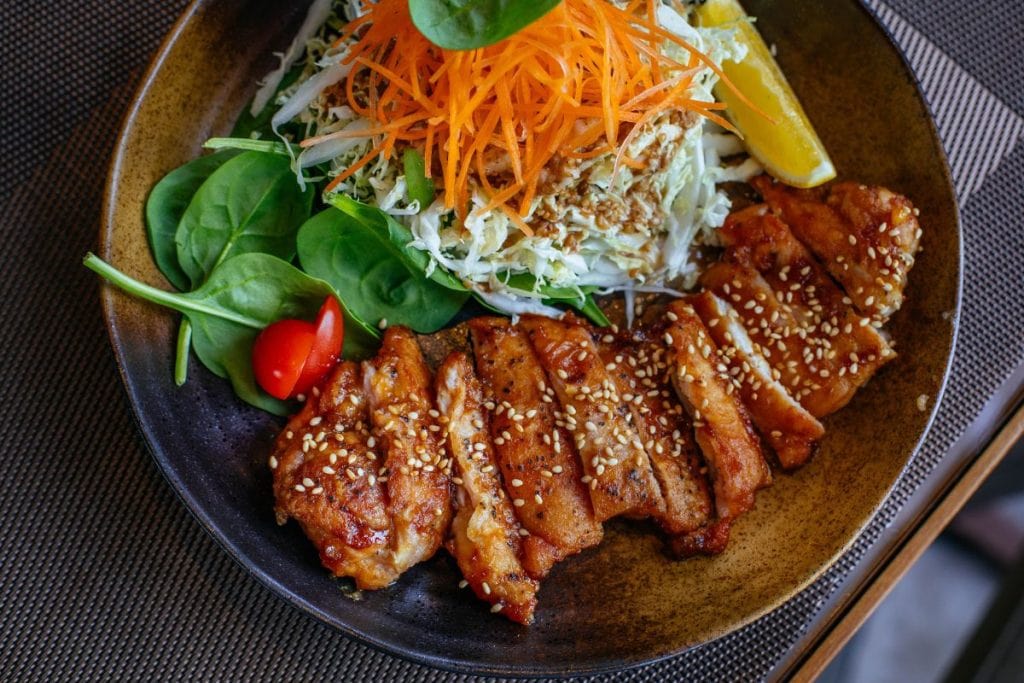 Pigeonhole
Ranked as one of the top 100 restaurants in Canada, Pigeonhole is a Parisian-style restaurant offering everything from breakfast and brunch to dinners and late-night snacks. Mimosas and arepas-based Benedicts are a favourite during brunch hours while dinner items like Wagyu beef tartare, Atlantic scallop crudo, and ricotta dumplings light up the tastebuds.
Just like its sister restaurant, Model Milk (also featured on this list), Pigeonhole stands out with its cool, groovy vibe as its dazzling chandelier floats above the tables and its reclaimed white marble bar. Small plates can be ordered as snacks combined with selections from the restaurant's quirky wine list or you can dive into one of their delicious main courses. I mean, if a restaurant can create a stir with cabbage (one of their long-term fan favourites is charred cabbage with Mimolette and jalapeno salad cream), you know it's got to be good.
Klein / Harris
If you're looking for true Canadian cuisine, head over to Klein / Harris. Located on Stephen Avenue, which is one of the most beautiful streets in the city, this Calgary restaurant was inspired by the diverse bounty that Canada has to offer. Through distinct coast-to-coast Canadian dishes, Klein / Harris highlights the stories of passionate Canadian producers with the use of exceptional products and ingredients, such as wild seasonal mushrooms from British Columbia and fresh notable oysters from The Maritimes.
Some of the many dishes you'll find here include parmesan crust grilled cheese, apple + walnut salad, grilled Humboldt squid, and candies pork belly, in addition to a wide variety of cocktails to wash it all down with, such as the Tiki Horse made with distilled Alberta Dark Horse Whiskey and The Vancouver made with Tanqueray Gin, sweet vermouth, and a dash of Benedictine and Angostura Orange Bitters.
The Lake House on Lake Bonavista
There are not a lot of lakes in Alberta but in the community of Lake Bonavista in Calgary's Southeast, you'll find The Lake House on Lake Bonavista, perched directly above Lake Bonavista with large glass windows overlooking the lake.
As one of Calgary's finest and most creative restaurants, you'll find rustic elegance, ornate elk antler chandeliers, and a grand stone fireplace, not to mention a 130-square-foot glass-encased wine cellar and a refurbished 21-foot bar from the 1800s, previously housed in a mercantile shop in Montana.
Featuring Canadian Rocky Mountain Resorts' (CRMR's) renowned and distinctive Rocky Mountain Cuisine, their locally inspired menus include dishes such as Tamari Marinated Arctic Char, Tandoori Duck Breast, and Grilled Certified Angus Ribeye.
Cardinale
Cardinale's kitchen staff are in early each morning to prepare fresh products in limited quantities for each meal service, while fine care and attention to detail are put into making their pasta noodles fresh in-house each day. The menu is inspired by traditional Italian cooking methods in mind, using a combination of local produce, and wonderful imported Italian ingredients that are not readily available in Calgary.
Start off with their prosciutto tonnato (18-month-aged san daniele prosciutto, capers, horseradish, gnocco fritto), followed by linguine with squid ink pasta, prawns, scallops, jalapeno, and hazelnuts, before ending the night off with tiramisu.
Lulu Bar
Recently ranked as one of the top restaurants in Canada, Lulu Bar is a hip chef-driven concept in the heart of Calgary's 17th Avenue. Inside this laid-back mid-century modern dining room is a mixture of West Coast and Polynesian accents with surfboards on the walls, plenty of greenery, and hanging lantern-style lights to compliment the Asian fusion food that Lulu Bar is known for.
The menu consists of Pan-Pacific cuisine with inspirations from countries such as Vietnam, Thailand, Indonesia, Hawaii, and even California. Some of the items include salt & pepper pork belly, fried coconut squid, Sichuan noodle salad, and beef tongue, all of which can be complemented by an array of beer and tiki cocktails.
The Nash
Located in the local favourite neighbourhood of Inglewood and set in a former 1900s hotel, this stylish restaurant serves inventive Canadian dishes & cocktails. The National Hotel in which it resides has stood tall during two world wars, the great depression, a massive flood and a global pandemic, and The Nash also aims to stand tall with delicious locally-inspired cuisines such as seared Maine scallops with house-made chorizo, AAA Alberta beef flatiron steak, local rainbow trout bouillabaisse, and forest mushroom risotto. The food is great, the service is top-notch, and the atmosphere is lively. What more could you want?
Looking for More?
When it comes to Calgary and the rest of Canada for that matter, we've got you covered. From restaurant ideas to fun attractions, check out our many detailed travel guides below: