During the Fall in Canada, landscapes turn from lush green to a range of bright colours including orange, yellow, and red. It's truly a spectacular time to be out in nature but this doesn't happen everywhere. As you know, Canada is a huge country and the landscapes vary greatly from coast to coast to coast. You just need to know where to go.
Road trips in Canada are incredible at any time of year. Whether it's a winter road trip through the Rocky Mountains or a summer road trip through the prairies, there's no better place in the world for an epic road trip.
In this article, we're going to share with you the best road trips to experience the Fall in Canada.
Best Road Trips to see Canada in the Fall
While there are likely hundreds of little road trips to experience Autumn in Canada, not all are created equal. Most of the best road trips will be east of Manitoba, but that doesn't mean the Rockies have nothing to offer during the Fall. After lots of research and lots of travel across the country, these are the best road trips to experience the Fall in Canada.
Cabot Trail
Known as one of the world's most beautiful road trips, the Cabot Trail is an incredibly stunning place to witness Fall in Canada. Winding around the North shore of Cape Breton Highlands National Park, this drive offers spectacular ocean vistas in addition to quite possibly the best fall colours in Canada. If you time it right, typically the first two weeks of October, you might just see brilliant displays of fiery reds, oranges, golds, and crimsons dot the landscapes. In addition to this already incredible drive, you may also want to time your visit with the Celtic Colours International Festival, which is a Canadian Signature Experience and a wonderful way to witness Celtic heritage in Canada.
Fundy Trail Parkway
Completed in 2021, the Fundy Trail Parkway has been 25 years in the making, connecting the East and West Gates of this spectacular coastal drive. Home to the world's largest tides, the Bay of Fundy is an incredible area to explore. Aside from lush red and orange fall foliage, there's also stunning ocean vistas, natural wonders, seaside towns, waterfalls, and beautiful hikes that call this area home. Start off with the world-famous Hopewell Rocks before travelling along the coast towards Fundy National Park. Enjoy hiking through the lush forests, kayaking along the rocky shoreline, and eating delicious seafood while marvelling at some of Canada's top fall colours.
Québec City to Charlevoix
Another province known for a spectacular Fall in Canada is Quebec. One of the best places to go for a road trip during the Fall in Quebec is the route from Quebec City to Charlevoix. Running along the St. Lawrence River, this 200km road trip offers a great blend of beautiful views, history, delicious food, and nature.
Starting in Quebec City, you can experience the famous and historic walled city along with world-class cuisine before heading towards the powerful Montmorency Falls and the dramatic topography of the Charlevoix Region with its rolling hills of aspen, poplar, and maple trees. Perhaps the best part is that aside from the lovely views, this region is also home to a variety of wineries, cheese makers, and gourmet restaurants.
Ontario's Tail of the Dragon
Thanks to its series of exciting twists and turns along Highway 129, this road trip is known as the Tail of the Dragon. Lesser known than the Algonquin Highway Corridor (see below) but equally spectacular, the drive from Sault Ste. Marie to Algoma Country is a great way to experience the Fall in Canada. You'll find many vibrant colours such as fiery reds, brilliant oranges and yellows, as well as the incredible shoreline of Lake Superior. In fact, these are the same landscapes that inspired the incredible Group of Seven artists many years ago.
Speaking of road trips during the Fall in Ontario, check out this map that shows the fall colour changes as they occur.
Algonquin Highway Corridor
Ontario is another province that is famous for Fall in Canada. Home to vast swathes of forests, this is a great place to find all the stunning fall colours, such as orange, yellow, red, and gold. There are a variety of fall road trips in Ontario but one of the best and most famous is the Algonquin Highway Corridor that runs through Algonquin Provincial Park. Covering more than 3,000 square miles of rugged Canadian Shield, this famous park is not only home to stunning lakes, rivers, and forests, but is also just a few hours north of Toronto.
Thanks to its high concentration of maple trees, a drive through Algonquin Provincial Park is a must for anyone seeking fall foliage. However, it would be a shame to only do the drive and not go hiking or canoeing. This park is known as one of the best places to go canoeing as it has over 990 miles of routes through lakes, streams, and portage trails.
Fall in Canada here in Algonquin Park typically starts in the middle of September and can continue all the way to late October. The drive itself isn't that long, traversing along Highway 60 from the West Gate to the East Gate or vice versa. If you're lucky, you may even spot black bears, moose, deer, or the incredible bald eagle.
Viking Trail
Although the Fall in Canada is different here to its sub-arctic conditions, the combination of fall colour shrubs, rugged coastline, and dramatic scenery make this an incredible road trip in the fall, summer, or spring. We've personally completed this road trip in the spring when the icebergs come to town, but wouldn't hesitate to come here at any time.
Starting in Gros Morne National Park, which is home to land-locked fjords, tablelands, and stunning coastal hikes, this is a place you can easily spend an entire week exploring. Then, you'll follow the Viking route up the coast to the town of St. Anthony's, which is where the sub-arctic region begins. It's also where you'll find L'Anse Aux Meadows, one of the world's first UNESCO World Heritage Sites. This is where the Vikings landed many centuries ago, leaving behind evidence of their short time here in North America.
For this trip, you'll be better off timing it for September as the colder temperatures can cause the fall foliage to disappear quicker. Plus, you'll want to try and make it to the Gros Morne Fall Festival, which occurs in mid-September.
Captain's Cook Trail
With all the hype of St. John's and Gros Morne National Park, Corner Brook often gets left out. But when it comes to Fall in Canada, you'll find a pretty spectacular 1-hour drive along Captain's Cook Trail from Corner Brook to Lark Harbour. Few people know that the legendary Captain Cook learned and honed his navigational skills in Canada or that he spent four years mapping the island of Newfoundland for the British Admiralty, so it can be a cool little historical road trip by starting it off at the Captain James Cook National Historic Site on Crow Hill, which happens to offer some of the best views of Corner Brook. overlooking Corner Brook and the Bay of Islands.
As you travel this short route, you'll pass a series of scenic villages until you end up in Frenchman's Cove, which is when the scenery becomes more dramatic as tall cliffs rise out of the sea to form rugged islands. One of the highlights is the series of waterfalls that drop off the cliffs hundreds of feet above. Finally, you'll find Lark Harbour and the lovely communities of Bottle Cove and Little Port, all home to traditional dories and fishing boats.
Perhaps the best part is seeing it from the other direction as you head back the same way towards Corner Brook.
Icefields Parkway
Although the Rocky Mountains don't get the same array of colours that you'll find in Eastern Canada, the drive from Banff to Jasper is still one of the best road trips in Canada thanks to its towering mountain peaks, glaciers, and turquoise-coloured rivers and lakes.
While this road trip is stunning all year round, the fall colours do make it quite beautiful. Not only is it a quieter time to visit, but you'll find nice yellow and green colours all along the way. Plus, it's home to loads of wildlife, cascading waterfalls, incredible canyons, and natural wonders like the Columbia Icefields.
Without stopping, this drive takes close to five hours, but we highly recommend spending at least an entire day. You'll also want to make sure you spend a few days in both Banff and Jasper to fully enjoy all the incredible attractions and hiking opportunities.
Tour Idea: Click Here to Learn about an Icefields Parkway Smartphone Audio Driving Tour.
The Kananaskis
Just south of the Icefields Parkway is one of Alberta's true gems – the Kananaskis region. Home to the incredible Rocky Mountains, this area is world-renowned for its incredible Kananaskis hikes, glacier-fed lakes, and wildlife viewing. It may not have the array of colours you'll find in the Atlantic regions, but you'll still find lots of bright yellow colours mixed in with all the lush green pine and aspen trees. The drive itself, going to places like Lower and Upper Kananaskis Lakes is some of the most stunning scenery you'll ever see and if you can take the time to hike to one of the mountain summits, you'll not only be rewarded with jaw-dropping views, but you'll find more fall foliage in the smaller mountain shrubs found above the treeline.
The Kootenays
Like the Kananaskis, this Rocky Mountain region is also home to some beautiful fall foliage, particularly the bright yellow colours dotting the mountains and valleys. Located in British Columbia, a good way to see the Kootenays during Fall in Canada is to drive between Fernie and Radium Hot Springs, which also links up to the Trans-Canada via the spectacular Highway 93. In fact, you could continue going further north by joining the Icefields Parkway and turning this into one of the most spectacular mountain road trips in the world!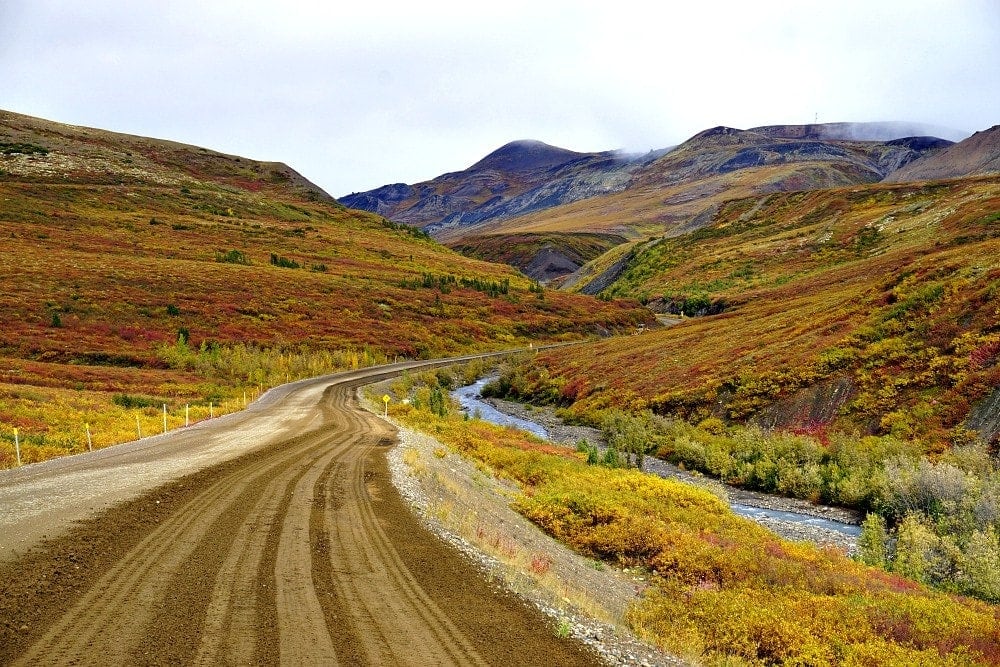 Dempster Highway
If you're looking for a road trip unlike any other, consider the Dempster Highway that connects the Yukon with the Northwest Territories and leads to Canada's only highway to the Arctic Ocean. This 700-km dirt road is not for the faint of heart, but it does lead to some of Canada's most remote regions that are connected by road. When we made our way here in 2017, we came at the end of August and the fall foliage was already out on full display. Rather than the large trees found in the east, the changing colours here are mostly with the small shrubs that normally line the arctic region. However, they feature a wide variety of colours, such as red, yellows, and orange, and combined with the lack of bugs compared to the spring, it makes this an ideal time to come North. However, you don't want to come too late in the season unless you're prepared, as the snow can arrive any time in September.
Want more of Canada?
Road trips are definitely one o the best ways to explore Canada. If you're looking for more things to do in Canada, check out these articles below: