Even though we love to jump on planes and travel around the world, our favourite form of travel is a good old classic road trip. There's something special about being in control of your own transportation and being able to go wherever you want, whether that's a small town, a big city, or an off-the-beaten-path gem. There's also something great about stuffing what you need into a car and not worrying about baggage restrictions, lost luggage, and people throwing away your cologne and hand creams.
Road trips are a popular mode of travel in many countries around the world but there's hardly a better place than Canada. As the worlds second largest country, Canada is best explored by vehicle. The Trans-Canada Highway runs all the way from Newfoundland to British Columbia, paving a path of more than 7,800 kilometres. Then there's the North, which is now connected by road all the way to the arctic ocean in Tuktoyaktuk, NWT. There's major cities, small towns, and breath-taking scenery all along the way.
We've done a lot of road trips in our time but nothing can compete with our 150-day Canada road trip in 2017. During those five incredible months, we toured every driveable province and territory in Canada (there's no road to Nunavut), took a dip in three oceans, and experienced the best of Canada while documenting it in our 12-part travel series called Road to 150. Those videos have been seen well over one million times and we've received hundreds of comments from people who were inspired to plan their own road trip across Canada thanks to our show.
Choose Your Adventure
Okay, so first things first. Where do you want to go? What's the Canadian road trip you want to take? This will help determine when to go, how long you need, and what budget to plan. We've written an article about the top 13 road trips to take in Canada and have made videos about 12 provinces and territories. Perhaps those will help?
Choosing your adventure will help you choose some of the places you might stop. I'm not a big fan of plannings trips down to the hour, but it's a good idea to know the key places you'd like to visit. Just like choosing the overall adventure, this will help you plan your time, budget, and activities. For example, maybe your dream is to kayak Hopewell Rocks. With this in mind, Hopewell Rocks is an obvious stop and kayaking is a must. You can now plan around this activity and perhaps leave some days open for some spontaneity around that area.
Determine Your Budget
This is an important step. If you only have $1,000, you should probably avoid planning a road trip from coast to coast. However, you might be able to do a one-week road trip in one province.
Canada is known as a fairly expensive country, but that depends on where you're coming from. Americans often find Canada quite cheap due to the dollar exchange, as would people from Australia, New Zealand, and many Western European countries.
Either way, Canada can be cheap or it can be as expensive as you want it to be. If you're wanting to take charter planes to secluded lakes in the middle of nowhere, it can get expensive. If you're wanting to fly up to Canada's Arctic and go on Canadian safari's to see animal migrations, it can be very expensive. However, if you're simply wanting to travel around, go camping, and visit some world-class cities, it can be done on a budget as well.
Budgets usually revolve around food, transportation, accommodation, and activities. So, we will give you some examples of cost estimates for these things as you continue down this article.
What to Eat (Budgeting for Food)
The cheapest way to do it is to not eat at all, but that's not very fun and you're not gonna be happy for long. The cheapest way to eat is to get yourself a cooler and to go shopping at a grocery store. During our big road trip, this is what we did to save money. We ate a lot of sandwiches consisting of ham, cheese, chipotle mayo, and pickles. The pickles really helped a lot. It was pretty good and pretty cheap (Maybe $2 per sandwich or less) but after 150 days, I didn't want to see a sandwich for a long time. We also mixed it up with cheap fast food from time to time, such as Tim Horton's and Subway. These are generally the "healthiest" options for fast food and meals cost less than $10. In addition, we'd always budget for a good restaurant now and then as well, as I'd hate to travel across Canada and not experience some of the many delicious local restaurants along the way. Thanks to all the immigration in Canada, you'll find almost any type of food you can imagine. There are also ways to save money on restaurants too. For example, you may find good "happy hour" deals at restaurants as well as large pizzas for $20 or so, which can then serve 2-4 people. Regardless, try to budget enough to eat at a local restaurant a few times per week, so that you can sample some very good food from all over the world, as well as take a break from the mundane.
Where to Stay (Budgeting for Accommodation)
Another cornerstone of any successful road trip is finding a place to rest your head at night. There are all sorts of options in Canada, including hotels, motels, hostels, Airbnb, campgrounds, woofing, courchsurfing, or just sleeping in your car (although you need to be careful with this option because it's not legal to just park anywhere you like and spend the night).
The cheapest options are camping and couchsurfing, generally followed by hostels and Airbnb rentals. Hotels and motels are generally the most expensive options but are also the easiest and most abundant. However, outside of peak times or peak locations (like Banff), standard hotels range between $75 – $150 per night, which is pretty affordable. Campgrounds generally range from $10-$30 per night for a non-powered tent site. Some campgrounds are first-come-first-serve whereas others allow booking in advance. If you're planning to stay somewhere popular such as Banff National Park, these places often book up many months in advance.
(Note: If you sign up for Airbnb using our link, you'll get bonus credit and so will we!)
We often love finding local bed and breakfasts when possible as they're typically quite comfortable, offer a delicious breakfast, and make a great way to meet some locals. Otherwise, we love the simplicity of staying in hotels. We also love camping but generally only do that on specific road trips as they require a lot of outdoor gear. For hotel bookings in advance, we typically just use Expedia to search room price or sometimes we might try Priceline and bid on rooms in bigger cities.
If you plan to go camping in a national park, you'll have to book through Parks Canada. Each province and territory will have its own system for provincial parks. Another option is KOA.
What to Do (Budgeting for Activities)
What you intend to do during your Canada road trip will determine a large part of your budget. If you're simply looking to go hiking and camping, costs will be quite low. You may want a Canada Parks Pass, which will you allow entrance into all Canadian national parks for an entire year for as low as $80. The actual activity of hiking would be free. Museums and city attractions will bump up your costs at about $10-20 per visit per person, and adventurous excursions like helicopter tours, rafting, and whale watching tours will increase that once again. However, you can always buy our Saver Card, which will save you money on various activities and attractions from coast to coast to coast.
Choose Your Dates
When it comes to road trips in Canada, choosing the dates is important. The best time to do a road trip is when the roads are clear, which is typically from May until October, although it can depend on where you go. From December to April, you may be dealing with winter conditions such as snow and ice, which make driving more dangerous and unpredictable. However, it also depends on what activities you're looking to do. If you're on some sort of ski road trip, then winter is when you're going and you should plan accordingly. Generally, spring, summer, and fall are the best. Spring and fall are less busy and are generally still good for driving conditions whereas the summer is much more busy in terms of places to visit. However, spring is more unpredictable in terms of weather. One day it might feel like summer and the next day it could be raining or snowing. Plus, trees and flowers might not be in bloom yet, which makes the area look more dull and dead. Summer is ideal but you'll be dealing with bigger crowds and more expensive accommodation. Fall will be cooler and can be great because the crowds start to taper off and the fall colours are out on full display (depending on where you are).
What Vehicle Will You Drive?
In order to do a road trip, you're going to need some sort of vehicle. If you don't have your own, you can rent one from a variety of locations across the country. If you're flying into Canada, I'd recommend renting one at the airport so that you can return it to the airport when you fly out. You may also be able to return the vehicle to a different location for an added cost.
If you're driving in the warmer months, any vehicle will do most of the time. You don't need a big truck or an SUV unless you're planning to go off-roading or simply need the space. Most of the roads in Canada are very well-maintained. Even up in the Yukon, a car is more than enough to get you around, although a 4×4/AWD will come in handy if taking the Dempster Highway up to the Arctic.
In terms of rental car costs, it largely depends on the season. In May, for example, we rented a mid-sized car in Calgary for three weeks for only $400. This included unlimited kilometres and our credit card covered the insurance for free. However, we also rented a car in Newfoundland during the summer and it cost $100 per day. It really depends on where you are and what time of season you're visiting in. Either way, we typically use Expedia to begin our search for the cheapest car. Most reservations can be done for free using a booking engine.
Tip: When renting a car, check with your credit card about rental car insurance. Often, credit cards include rental car insurance for free.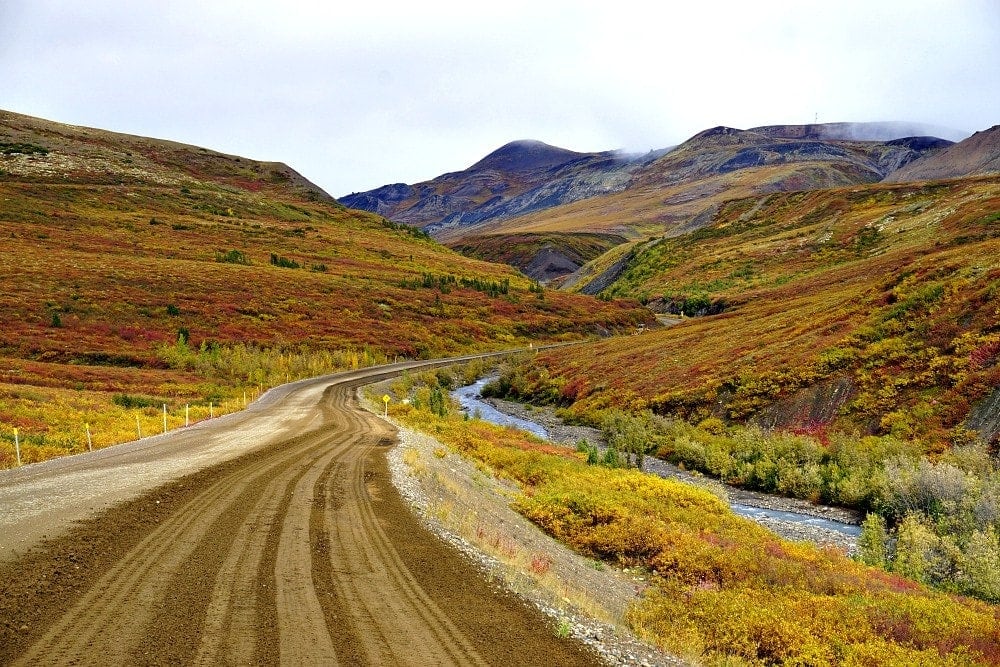 What About Gas?
If you have gas, we recommend cracking the window for the sake of your passengers. Oh, you mean fuel. Gotcha. Fuel is everywhere. Although the distances between major cities can be well over 1,000 kilometres, there's generally some sort of service station or small town every 200-300 kilometres. The only place we were worried about finding gas when we needed it was on the Dempster Highway up in Canada's Arctic. However, even there, you'll find a service station with 450 kilometres. Aside from areas like that, you shouldn't have to worry about gas. However, we recommend trying to stay above half a tank of gas, just in case.
FAQ – Questions We Get Asked
When traveling long distances, is it better to book hotels in advance or just find one on the highway?
Generally speaking, you should be able to find one on the highway or in a city or town without booking in advance. However, this largely depends on where you are and what time of year. For example, in Newfoundland during the very busy summer months, you should book in advance. In bigger cities, you won't have as much of an issue, unless there's a big event happening. One thing we often do if we're unsure is to do a preliminary search using Expedia or another hotel booking site. If availability is looking low, we might book it just to make sure. If there's lots of availability and/or lots of hotels to choose from, we'll probably wait. You may even want to call the hotel and ask.
When travelling long distances, will we run out of gas? Is it just wilderness?
We often get asked this question from people coming from Europe who aren't as used to such a wild, open area. With the exception of maybe a few places in the deep north, there are gas stations all over the place. Most vehicles these days can go 500-800 kilometres on a tank of fuel, so making it to another one along the highway is easy. However, it's still important to pay attention to your fuel gauge and not wait until you're almost empty. If I have a half tank of gas and see a gas station during a long road trip, I generally stop and fill it up. It's always nice to stop every 2-4 hours and get a stretch anyways.
Should we get travel insurance?
No matter where you go, we always recommend having travel medical insurance at the very least. It's not usually very expensive and in the case of an accident, you'll be happy you have it.
Planning a Canada Road Trip
The amount of planning you need to do will largely depend on the length of your trip. However, it's not like you can't just jump in a car and start driving. As long as you're very flexible, you'll have a great time even without planning. However, if you have a strict budget or certain things you absolutely want to do, doing some planning in advance will pay off.
If you have any questions, please let us know in the comments below and we'll answer them. We'll also update this page with more information for everyone.
Most importantly, have fun!
For more road trip articles, check out:
LIKE THE ARTICLE? PIN IT!
.