Located right on Alberta's famous Cowboy Trail and less than 90 minutes away from downtown Calgary, Sundre is easy to visit and yet somewhat off the beaten track. Nestled between the stunning Canadian Rockies and the rolling foothills and prairies of southern Alberta, Sundre and the surrounding area is a great place for those looking to get outdoors, enjoy the small-town atmosphere, and explore the beautiful natural areas that surround it.
Whether you're looking to learn about Alberta's pioneering past at the museum, get up close and personal with horses, go golfing, or explore some of Alberta's most beautiful and wild nature, Sundre is the place for you.
Where is Sundre?
Sundre is a small town of approximately 3,000 people located on Highway 22, which is also known as the Cowboy Trail. It is approximately 116 kilometres northwest of Calgary, 100 kilometres southwest of Red Deer, and 250 kilometres southwest of Edmonton.
History of Sundre
The Town of Sundre takes its name from Søndre, Norway ("south" in Norwegian). Søndre was the home of Nels T. Hagen, Sundre's first postmaster in 1906.
As a young man, Hagen first went to the United States and later came to Canada. When he arrived in the area, he purchased land and the store from David McDougall, who was one of the first settlers in the area. The Post Office was established on Dec 15, 1909, and the name Sundre was chosen at that time. Sundre remained a settlement until 1950, which is when it was designated a village. In 1956 it achieved the status of Town.
Today, Sundre has a pretty diversified economy including petroleum production, forestry, agriculture, ranching, cannabis, the public sector, and tourism
How to Get to Sundre
The best way to get to Sundre is by driving your own vehicle. There are very limited options for bus transportation in Alberta outside of major city centres and major tourist areas such as Banff. However, since Sundre is located on the Cowboy Trail, it makes for an excellent stop during an Alberta road trip or a fantastic escape from Calgary, Edmonton, and Red Deer.
Calgary to Sundre: The drive from Calgary to Sundre is approximately 116 kilometres and takes around 1.5 hours. This makes it an excellent day trip opportunity or a 2-3 day escape from the big city. There a number of ways to get here depending on where you start in the city, but the most scenic route would be to take Crowchild Trail towards Cochrane and then get on Highway 22.
Red Deer to Sundre: The drive from Red Deer to Sundre is just under 100 kilometres and takes just over an hour to get there.
Edmonton to Sundre: Edmonton is a little further away, sitting approximately 250 kilometres from Sundre with an approximate drive time of roughly 2.5 hours. The easiest route to take is Highway 2 past Red Deer and then head west on Highway 27.
Best Time to Visit Sundre
Like most of Alberta, the best time to visit Sundre would be during the warmer months from June to September. This is when the temperature is at its highest temperatures (in general) and there are many activities and attractions to enjoy. However, there are outdoor activities in the winter as well, including cross-country skiing and snowmobiling.
Things to Do in Sundre and Area
Located right on the Cowboy Trail, Sundre is a popular place to visit. Although small in size, there's quite a bit to do, both in the town and in the surrounding countryside.
Sundre & District Museum
When it comes to culture, the best place to go is the Sundre & District Museum, which is home to numerous galleries, the Pioneer Village, and the World of Wildlife. This is a great place to come to learn about the various cultures and communities that transformed and created the Sundre we know now.
During our visit, the galleries were being rearranged, but we loved the pioneer village, which is home to 8 heritage buildings spread out over 4 acres of land. We toured the old school, an old pioneer home, and much more. One of our favourite experiences was stumbling across Timeless Antique Photos, which is housed inside one of the heritage buildings. We got dressed up in pioneer clothing and got a black and white photo taken to the backdrop of an old saloon. It was awesome!
In addition to the Pioneer Village and the galleries, there's also the truly unique and quirky World of Wildlife exhibit. This exhibition actually landed the museum on the international stage and features the mounts of more than 170 animals from around the world, including the Arctic and Africa.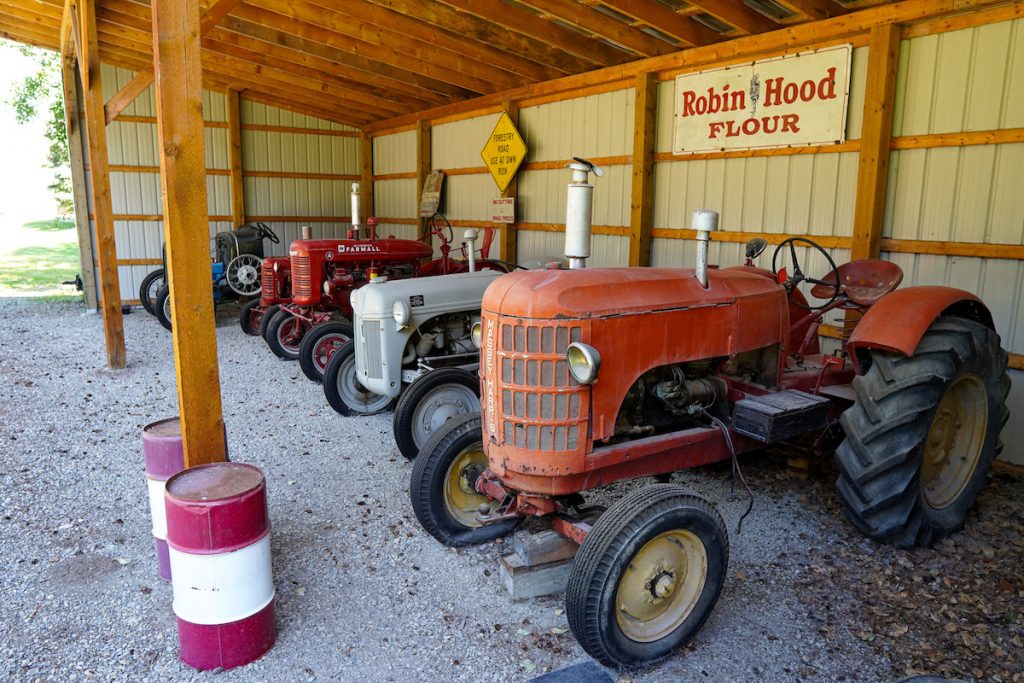 Hit the Trails of Snake Hill
For those wanting to get outdoors without leaving the town, you'll want to head to their beautiful Snake Hill recreation area. The conservation area is home to 17 kilometres of maintained trails that wind through a thick forest, eventually leading to sweeping views of the town, the Rocky Mountains, and the Red Deer River. We certainly didn't see any snakes during our visit, but if you do, we're told it's only the friendly green gardener snakes, which pose absolutely no risk. We did spot a deer through and listened to some beautiful birds chirping away as we tried to find the lookout point. Whether you bring a bike or just go for a walk, it's a great "inner-city" place to get outdoors and into nature.
Go Golfing in Sundre
With so much natural scenery around, it's no surprise that golf has become so popular. In fact, there are a number of golf courses in the area, including the Sundre Golf Club, Coyote Creek Golf Club, and Forest Heights Golf Course. During our visit, we went to the Sundre Golf Club, which was located right across the street from our lodge. The perfectly-manicured par-72 course has 18 holes, which are a mix of wide-open fairways, water features and bunkers. We were also pleased to find that they offer a free driving range, which is something we haven't seen before. This allowed us to practice first, which is something we very much needed. There's also a place to practice your putting and of course, a popular clubhouse for delicious food and cold beer.
Go ATV'ing
Thanks to Mountains Edge Cycle & Sled, you can rent or buy a number of utility terrain vehicles or recreational off-highway vehicles, including side-by-sides, quads, and snowmobiles. During our visit, we had the opportunity to join the owner and go side-by-siding in the backcountry of Mountain View County. This was our first time on a side-by-side and it was really cool to take them up steep rocky terrain for impressive views of the Canadian Rockies. They don't offer tours at this time but they can certainly rent them out and show you where to go!
Browse Bergen Rocks
If you're into art or just love to find the small hidden gems of the world, head out to Bergen Rocks International Sculpture Park. Organized by artist Morton Burke, It's just minutes outside of Sundre and is home to over 10 monumental stone sculptures. This outdoor art gallery features works of art, made by local and international artists, from more than 100,000 pounds of sandstone and marble.
Admission is just $2 and a tour by Morton takes around 30-60 minutes or so if he's available. It's a great way to learn the story behind each piece. It's not hard to find but Google Maps doesn't exactly know where it is. From the Sundre A&W, travel South 6.4 KM, go West (right) on TWP 3.2 for 1.6 KM, then head South (left) on Range Rd 5.4 for 0.5 KM. You should see a sign for Bergen Rocks.
Raft the Red Deer River
When it comes to outdoor activities, one of our favourite things to do is to go white water rafting. There are loads of opportunities around the mountains and the best one in this neck of the woods is the Red Deer River. We went with Mukwah Rafting and not only is the drive to get there beautiful (keep your eyes open for wild horses) but the rafting is both fun and relaxing. It's not as aggressive as other rivers such as the Kicking Horse River near Golden, BC, but it certainly has enough rapids (going as high as class 4) for those seeking the thrills and a lot of relaxing stretches for the whole family to enjoy as well. After all, the scenery is very beautiful. There's even an opportunity to do a not-so-high cliff-jump into the icy-cold water, a surefire way to wake up and get refreshed!
We highly recommend doing the full-day excursion if you're coming all this way. Plus, there's also a campground at the Mukwah Rafting location for those looking to spend the night.
Go Horseback Riding in Panther Valley
When travelling the Cowboy Trail or perhaps Alberta in general, it just makes sense to throw on a cowboy hit, saddle up on a horse, and go for a horseback ride into the backcountry. Located just five minutes from Mukwah Rafting and almost on the border of Banff National Park is Sunset Guiding and Outfitting, a great place to go horseback riding, camping, or even spending the night in one of their rustic cabins.
Horseback tours range from a couple of hours to a full day and are guided by real cowboys, such as Merle, who has been guiding these parts for over a decade. He, or one of the other guides, will take you out into the country to get some gorgeous views, such as admiring Klein Lake from above, surrounded by mountains in the distance. This was one of our favourite 2-hour horseback tours, as we passed through lush forest, went up and down the valleys, and made it up to the "summit" for stunning views. We even saw wild horses as we returned back to camp.
Tip: When it comes to horseback riding, we recommend wearing boots or hiking shoes, jeans or pants (not shorts), and a long-sleeved shirt to protect from both the bugs and the branches you're likely to scratch-up against. If you're not used to riding, you may also want to opt for a short trip of 2-hours, as it can be hard on the knees in the beginning.
Visit Bighorn Falls and Ya-Ha Tinda Ranch
Located just 30-minutes from Sunset Guiding and Outfitting is one of Canada's most iconic ranches – the Ya-ha Tinda Ranch. This government-run working horse ranch is the only one of its kind in the country and has been on operation since 1917. It's home to some of the most beautiful views in the area, with mountains, valleys, and rivers cutting through the massive 4000-hectare ranch. It's also home to a campground and one of the most beautiful waterfalls in the province – Bighorn Falls. It's also easy to see them, being just a 10-minute "hike" from the parking area.
There seem to be two trails leading there and we took the one that goes up the hill, following the river up until you reach the falls. For those seeking maximum adventure, we also saw people parking their cars to go on multi-day backpacking adventures in the countryside. So, there are things to do for everyone!
Wild Horses of Alberta Society
If you love horses, you don't want to miss a visit to the Wild Horses of Alberta Society. This volunteer-run organization rescues wild horses, brings them to this small "ranch", gets them used to humans over the span of 4-12 months, and then adopts them out to loving people. As you'll likely see while exploring Sundre and area, you'll likely find wild horses all over the place. However, sometimes they get hurt or they start to bother farmers, and this is when this society comes in and rescues the horse before something worse happens to it. It's very cool to see the horses up front and to meet the volunteers who work so hard, just out of pure love for the majestic creatures. We can't imagine how much work must go into making a wild horse trust people. It must be both very difficult and highly rewarding. To visit, all you have to do is call and arrange a time to go. It's free but the society does run entirely off donations, so if you're so inclined, bring some cash.
Where to Eat in Sundre
There are a number of places to eat in Sundre, including both the typical fast-food joints like Subway, Tim Horton's, and A&W, as well as an array of local options that are delicious. We didn't have the chance to try all of them, but here are the ones we did.
Kodiak BBQ & Deli: Although the name doesn't imply a hearty breakfast, this was one of the best breakfasts we've had in a long, long time. Open for breakfast and lunch, Kodiak BBQ & Deli serves up some of the fluffiest pancakes, crispy hashbrowns, and perfectly cooked eggs you can find. We shared two meals and loved everything. The Eggs Benedict was perfect, the bacon was so good that we wanted to buy a few pounds to take home, and we loved being able to substitute one side of hashbrowns for cottage cheese and fruit. In addition, the prices are extremely reasonable. I wish we had this place in Calgary!
Original T's: There's a reason this place is busy. Home to delicious pizza, juicy burgers, popular pasta dishes, and more, this is the place to go for lunch or supper. We had their buffalo crunch burger with crispy sweet potato fries as well as one of their delicious salads, which came with sliced orange, spicy candied pecans, goat cheese, and sliced chicken breast. We had such a hard time deciding what to have that we ended up ordering their shrimp gyoza as well. We'll definitely be back!
Sundre Golf Club: Whether you're golfing or not, the Sundre Golf Club is a great place to grab lunch or supper. We went there for lunch before heading back to Calgary and it was really good. We had both the 8oz steak with sweet potato fries and the shrimp tacos. We also washed it down with a delicious Caesar before going out to hit some balls on the driving range. You can eat inside or outside while admiring the golf course itself.
Cedars Pub: Owned by the same owner as Original T's, this is the place to go for drinks, food, and watching sports on the TV. They have 16 craft beers on tap and what was really cool is that they offer a sampler flight of 4 beers of your choosing. We've seen this at breweries before but never at a pub. This is what we opted for as it allowed us to try 4 different beer each.
Where to Stay in Sundre
Whether you're looking for a modern hotel, a charming bed & breakfast, or a campground, you'll find it in Sundre. Here are some options below:
Rustler's Lodge: Although called a lodge, this is really a charming bed & breakfast right across the street from the Sundre Golf Club. Everyone we met there really loved their stay, as the owners are very friendly and helpful, and they make a mean breakfast, which can be anything from french toast to pancakes, waffles, or bacon and eggs. It's a big house that's often used for retreats, as it opens up on to a beautiful slice of land and is home to a big indoor pool. They have clean shared bathrooms, big rooms, and even lounge rooms where you can read or play games.
Mountain View Inn & Suites: If you're looking for a modern hotel, this is the one from you. Located right off the main street as you enter Sundre, you can't miss it. It's the newest hotel in Sundre and offers spacious suites, an on-site gym, an indoor pool, a hot tub, and a complimentary hot breakfast.
Tall Timber RV Leisure Park: If you have an RV, this is the place to go. They offer 48 overnight, power (30 AMP) and water sites as well as 10 seasonal, full-service sites. They also have a community centre, an indoor pool and hot tub, a laundromat, a snack bar, and playgrounds. Please keep in mind that tents are not allowed.
Things to Do Around Sundre
While we already mentioned many of the things to do in Sundre and the surrounding area, there's plenty more to do if you're on a bigger road trip. As we talked about in the beginning, Sundre is part of the Cowboy Trail and is not far from other areas such as Rocky Mountain House, Sylvan Lake, Nordegg, and even Calgary and Banff.
For more to do near Sundre, check out these articles below:
For more on what to do in Sundre and Area, visit their travel and tourism website www.exploresundre.com