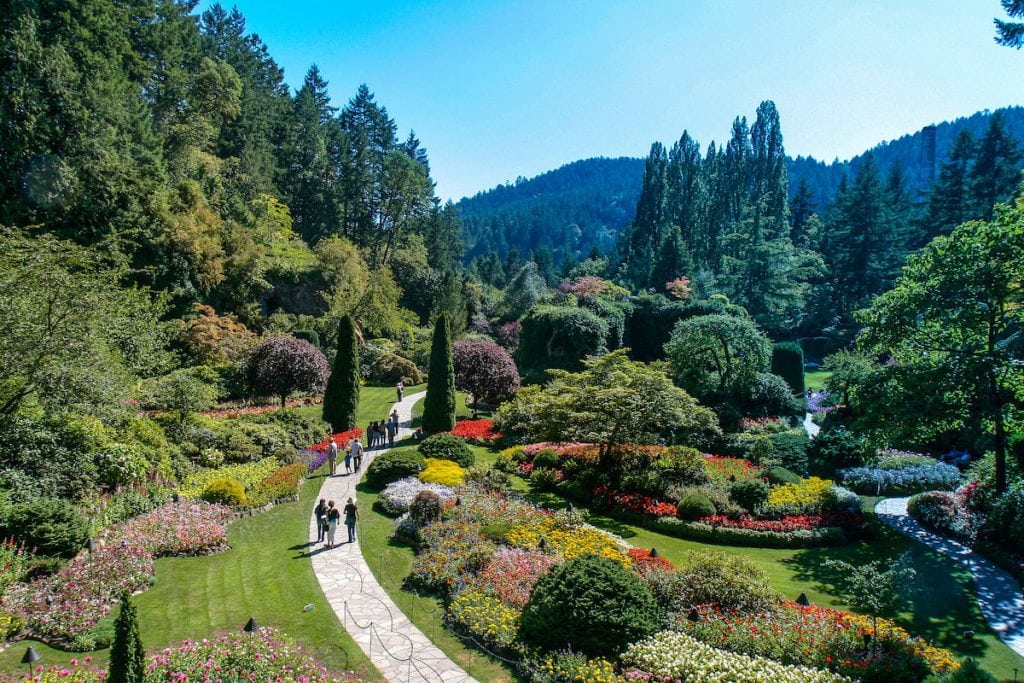 After many road trips across Canada, we can easily say that Vancouver Island is one of our favourite destinations in the country. Located on Canada's west coast and home to some of the mildest weather in Canada, there are lots of incredible things to do on Vancouver Island, including whale watching, surfing, scuba diving, restaurants, breweries, and more.
With old-growth forests, massive trees, rugged shorelines, mountains, one of Canada's prettiest cities, and many charming towns, Vancouver Island really is a must-visit British Columbia destination and easily accessible via a flight or a short ferry ride from Vancouver. So whether you're into soft adventure, hard adventure, or just looking to soak up life in a lodge facing the pacific ocean, we'll fill you in on the top things to do in Vancouver Island.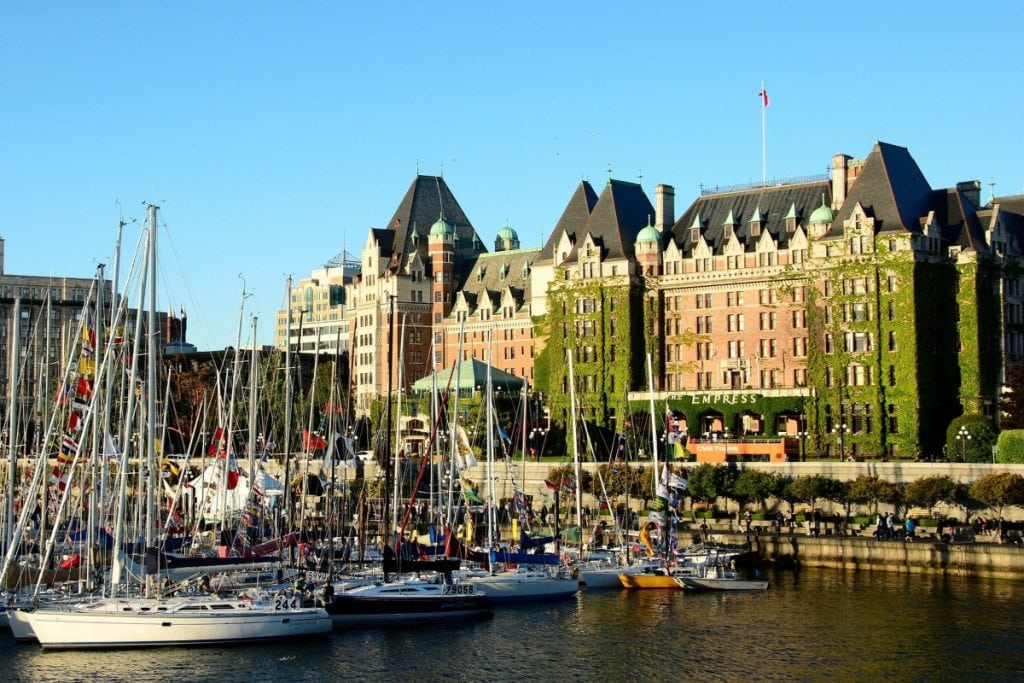 Visit Victoria
Not only is Victoria the capital of British Columbia, but it's also one of the prettiest cities in Canada and the main gateway to Vancouver Island. As the biggest city on Vancouver Island, it's a great place to start your trip.
Looking out over the Juan de Fuca Strait to the mountains on the Olympic Peninsula in Washington, the beautiful harbour is where much of the "action" can be found. Simply going for a walk is wonderful to enjoy a day in Victoria, but other highlights include a visit to the historic Fairmont Empress, the Royal BC Museum, the parliament buildings, Fisherman's Wharf, and a walking tour of the city to learn about its history. There are actually so many things to do in Victoria, so don't miss reading our detailed travel guide.
Smell the Roses at Butchart Gardens
When it comes to world-renowned gardens, Butchart Gardens is at the top of the list. This truly is one of the most beautiful gardens in the country, if not the world. Set within an old quarry not far from Victoria, these incredible gardens provide a year-round opportunity to step into a peaceful natural setting with flowers, trees, pathways, and many places to just sit back and relax.
Although these gardens began in 1904 by Jennie Butchart, they have since grown into the spectacle they are today. After the sun sets, the gardens are illuminated with creative lighting and on Saturday nights you can enjoy a firework display set to music. Make it extra special by enjoying live music performances, which take place every evening during the busy month of July and August.
The botanical displays change throughout the seasons and are especially stunning in the spring and in fall. For lovers of Christmas lights, the gardens are lit with many lights and displays during the festive seasons, including an outdoor rink, festivities, and many activities to partake in.
Go Whale Watching
When it comes to the best things to do on Vancouver Island, whale watching is high on the list. After all, we've done our fair share of whale watching across the country and Vancouver Island stands out as the best. While whale sightings can never really be guaranteed, we'll never forget the experience we had back in 2017 when we saw pods of orcas and pods of Humpback whales, all at the same time. One humpback whale came so close to the boat that it got us wet. It was unbelievable.
Whale-watching tours take place all over Vancouver Island, including from Victoria, Port Renfrew, Nanaimo, Tofino, and more. Orcas are quite common to see here, as are humpback whales, sea lions, porpoises, and other marine life. In Tofino, Gray whales are also common. Tour operators avoid viewing endangered southern resident orcas and take place in zodiacs or larger semi-covered tour boats.
Royal British Columbia Museum
Operating since 1886, the Royal British Columbia Museum is one of the best museums in Canada, featuring a wealth of interesting displays, exhibits, and artifacts showcasing British Columbia's natural and manmade history. While the entire museum is stunning, visitors always love the Natural History Gallery, which features six different rooms: Coastal Forest, Fraser River Delta, Climate Rules!, Seashore, Ocean Station, and Ice Age.
British Columbia Legislature
As British Columbia's capital city, their no shortage of beautiful buildings, but one of the most impressive buildings is the British Columbia Legislature. Built in 1893, overlooking the scenic harbour, the legislative buildings are beautiful both inside and out, and are open to the public with daily self-guided and guided tours, offering insight into the workings of Canada. Make sure you see the Queen Elizabeth II Golden Jubilee and Diamond Jubilee stained-glass windows, and the Memorial Rotunda, with its wonderfully painted walls and dome. For an added Victorian experience, enjoy lunch in the Parliamentary Dining Room, a restaurant that offers casual refined fine dining in a lovely atmosphere.
Explore the Old-Growth Forests of Vancouver Island
One of the most unique things to do on Vancouver Island is the old-growth forests, which are a national treasure and an absolute must-see for anyone who loves nature. As a rainforest, Vancouver Island gets a lot of growth, and while logging has taken its toll in recent years, there are still a few remaining virgin forests that are home to humungous trees that are up to 800 years old. Some of the best places to see these giants are Cathedral Grove, Tofino, and Port Renfrew.
Cathedral Grove is one of our favourite places to spot these beautiful trees. Located near Port Alberni, in MacMillan Provincial Park, Cathedral Grove is one of the most popular places to see ancient trees as it's on the way to Tofino, making it a great stop on a BC road trip. Old Western Red Cedar and towering Douglas Firs that reach up to 75 metres tall and as much as nine metres in circumference can easily be found via an easy-to-walk pathway.
If Cathedral Grove is out of the way, another great spot to see big trees is near Port Renfrew, which is just a couple of hours' drive from Victoria. This scenic road trip takes you up Highway 14, past Sooke and Jordan River, along a curvy road, making it a special place to get a feel for Vancouver Island. The most popular sites in this area are Eden Grove, Big Lonely Doug, and Avatar Grove, all of which are free to the public.
If you're tight on time and only have time for one area, Eden Grove is arguably the best. It sees much fewer crowds than Cathedral Grove or Tofino but is just as beautiful. Volunteers have built a rough boardwalk through the stand of trees that allows you quick easy access to the forest, giving you the opportunity to see Douglas Fir and Western Red Cedars, one of which is more than 12 feet wide!
Also, don't forget to pay a visit to Lonely Doug, a 1,000-year-old Douglas Fir that stands alone near a logged area. It's only a few hundred metres prior to reaching Eden Grove, and also serves as a reminder of the destruction that logging can have.
Explore Nanaimo
Not far from Victoria is Nanaimo, a charming little city that happens to be the second-largest on Vancouver Island. Centrally located on the east coast of Vancouver Island, Nanaimo is a beautiful city next to the Salish Sea, facing the Coastal Mountains of mainland British Columbia. Anchored by its lovely harbour, which is home to seaplanes, boat tours, walking trails, and more, this seaside city is a great place to experience the charm of Vancouver Island. It's also home to many little shops, restaurants, and museums, and makes a great base for exploring some of the best things to do on Vancouver Island.
Go Scuba Diving
While the waters off the coast of Vancouver Island are not even close to being as warm as those found in tropical destinations, this is one of the top scuba diving hot spots in North America. World-renown as one of the best cold-water dive locations, Vancouver Island offers clear water, a great climate, miles of coastline, and HUGE marine life, including wolf eels, sea lions and the legendary giant Pacific octopus. Even the creatures that are known for being small are extra large here, such as the Sunflower starfish that can reach one metre across and the orange peel nudibranchs that can grow to 45cm in length. There are also shipwrecks and plane wrecks to explore, making this a true scuba diving paradise. Just make sure you're dry-suit certified. Many of the popular spots to dive can be found around Nanaimo and Victoria, with some venturing further up the coast.
Go Bungy Jumping
One of the most thrilling things to do on Vancouver Island is bungy jumping in Nanaimo. Located at WildPlay, this 150-foot jump over the Nanaimo River offers an up close and personal meeting with gravity, as you jump off the bridge while secured with an elastic rope. More than 265,000 people have taken the plunge and as added bonus, you can even touch the water! Jump alone, jump tandem, or even take on some cool jump styles, such as the Swan Dive, Hover Drop, Corkscrew, Front Flip, and Prop Plunge. There's also a primal swing, zip lines, and so much more.
Watch Grizzly Bears in the Wild
After exploring so much of Canada for so many years, people are always asking us what some of our top experiences have been. One of the things to do on Vancouver Island that always make it to the top of our list is a grizzly bear tour. When we visited in 2017, we jumped on a boat and took a 1-2 hour ride up the Inlet to an Indigenous-owned resort on the mainland. From here, our indigenous guide took us on a short walk to a grizzly feeding ground where we literally saw more than a dozen bears. For those who don't know, seeing more than one grizzly is quite rare due to their territorial behaviour. However, because the river that flows through here has so much salmon at certain points in the year, the grizzlies don't care about all the company, including the humans that watch from nearby. In fact, we were so close, without any barriers, that I was able to snap close-up shots with a 200mm lens. Although we did our tour with Eagle Eye Adventures, there are a number of companies that offer the experience, typically in the latter part of the summer.
Snorkel with Salmon in Campbell River
Back when we visited Vancouver Island on our cross-Canada road trip, one of the top things on my list of things to do on Vancouver Island was snorkelling with salmon. Where else can you strap on fins and a mask, and cruise down a river with salmon?
This was such a blast. We literally cruised down the river with the current, watching hundreds of salmon, including pinks, cohos, chum, sockeye, and chinook, swim next to us. At the end of the journey, you wind up in the town of Campbell River. There are opportunities to rent the gear or to join a tour. If you do only rent the gear, remember that you need to back to point A from point B. Just like the bear tours above, the best time to do this activity is from August to October.
Visit Elk Falls Provincial Park
Everyone loves a good waterfall and it's hard to beat the beauty of the waterfalls at Elk Falls Provincial Park, which is located only two minutes from Campbell River. Enjoy a simple hike through the forest, a nice suspension bridge, and one of the most beautiful waterfalls on Vancouver Island.
Visit Tofino
Tofino is easily one of our favourite towns in Canada. After all, it's right on the west coast, overlooking the pacific ocean, and is home to the coolest surfing community in the country. Looking out over Clayoquot Sound and surrounded by old-growth forests and long sandy beaches, this little fishing and surfing village is a very popular BC destination.
The summer months can be very busy, but it's also the warmest time to truly enjoy the beaches and outdoor excursions. However, if you're into storm watching or professional surfing (amateur surfing is best during the summer), then the winter season from November to February is a great time to visit. Plus, there are fewer crowds and accommodation is cheaper.
In addition, just outside the town is Pacific Rim National Park, an incredible natural area with some of Tofino's best hikes and campgrounds. This location is home to ancient cedars, which are some of the oldest trees in Canada. It's also where you'll find Tofino's famous Long Beach, which stretches along the coast for 16 kilometres. We love walking up and down Long Beach!
Go Surfing
As mentioned above, surfing is a very popular activity in Tofino and the surrounding area. Both amateurs and professionals can enjoy the surf here, with a variety of locations and seasons to choose from. If you're new to surfing, we highly recommend signing up for a surf lesson. There are a number of highly-rated surfing companies in town, so pick the one that suits you best and team up with an instructor who can teach you how to surf. After all, it's not an easy sport, but it's very fun to take on the challenge. Once you get the feel for standing up on the board, it gets quite addicting!
Pacific Rim National Park, Tofino
Right next to Tofino is Pacific Rim National Park, an absolutely stunning slice of the west coast that's home to giant rainforest trees, world-class hiking, stunning beaches, and more. One of the best easy hikes to do while you're here is the Rainforest Trail, a series of short one-kilometre trails that take you to see the old-growth forests that this area is famous for.
Another famous area to visit is Long Beach, a 16-kilometre stretch of sand where people come to walk the beach, go surfing, or watch some of the best sunsets Canada has to offer. You may even spot a whale!
See Goats on the Roof at the Old Country Market, Coombs
If you're looking to take a break from all the outdoor adventure on Vancouver Island, consider the Old Country Market, a long-standing attraction that's known for the goats that chew away at the sod roof while occasionally posing happily for photos. If the goats are the primary reason for your visit, you'll want to go in the summer. Otherwise, the attraction here is the market itself, which is home to restaurants, ice cream, gift shops, a garden centre, and fresh vegetables and fruits.
Hike the Trails on Vancouver Island
As you can imagine, rainforest and coastline make for excellent hiking opportunities. Although many of the trails are remote, they are well-maintained and offer the chance to see incredible scenery, wildlife, and a rugged coastline that's hard to beat. The most famous hike here is the West Coast Trail, which is booked many months in advance. There's also the Juan de Fuca Marine Trail, which also takes a number of days to traverse 47 kilometres, but is somewhat less busy than the West Coast Trail. These trails are on the extreme side, but there are many trails that are significantly shorter, giving everyone the chance to hike in the rainforest, whether it's for a couple of hours or a couple of days.
One of the hikes we enjoyed during our time on Vancouver Island was the walk out to Botany Bay or Botanical Beach from Port Renfrew as well as the short hike to Mystic Beach, where we did pitch a tent for a night. There's a beautiful waterfall to see here and you don't have to camp. This hike can easily be done as a day trip from Victoria as well. In places like Tofino, you can even combine your hike with kayaking, reaching places of extreme solitude. Either way, if you want to go hiking, Vancouver Island is a great spot to do so.
Hike the World-Famous West Coast Trail
Although we mentioned the West Coast Trail above, we wanted to give it its own feature as it really is one of the most famous hikes in Canada. After all, this gruelling 75-kilometre hike cuts through incredibly beautiful scenery.
While famous for hiking today, this area was once known as the "graveyard of the Pacific" due to the rocky, shallow headlands that caused many shipwrecks prior to this century. Survivors would have to escape the water and the rocky shoreline before making their way through an almost impenetrable rainforest to make it out to safety. To help, a primitive trail was opened in 1906, following the route of the telegraph lines laid in 1890. This trail was then abandoned but rediscovered by backpackers in the 1960s. Today, people register a long time in advance for a chance to hike it!
This hiking trail is open from May 1 to September 30, with the number of hikers limited between June 14 to September 15. Hikers must make a reservation and should book well in advance. The trail has very basic campsites, and hikers must carry all their supplies with them. The park offers detailed information for hikers who want to undertake this adventure. We recommend getting into shape before attempting this trail.
Hike the Wild Pacific Trail in Ucluelet
If you're looking for a specific hike that offers some incredible views without the multi-day gruelling adventure, check out the Wild Pacific Trail in Ucluelet. This trail offers easy access to beautiful coastal areas with views of Barkley Sound and the Broken Group Islands and can be broken up into sections that range from 3-8 kilometres. Some popular sights include Big Beach, Lighthouse Loop, and Brown's Beach to Ancient Cedars.
We've been told that the most popular trail, if you only have time for one, is the Lighthouse Loop, which makes its way along the rugged coastline with stunning views to the south, ending at Amphitrite Point at the lighthouse it's known for.
Explore Clayoquot Sound
If you're looking for adventure near Tofino, Clayoquot Sound should be high on your list. Once set to be clear-cut by the provincial government, heavy resistance put a halt to those plans and instead, it became designated as a Biosphere Reserve by UNESCO.
The designation created world recognition of Clayoquot Sound's biological diversity, and it is now a protected area that you can explore. The land around Clayoquot Sound includes vast coastal temperate rainforests, rivers, lakes, marine areas and beaches. It also includes part of the Pacific Rim National Park Reserve and some of Strathcona Provincial Park, with a total size of approximately 860,000 acres.
Some of the wildlife that can be found here includes black bears, wolves, cougars, grey whales, orcas, porpoises, sea lions, seals, river otters, bald eagles, osprey, Pacific loons, Roosevelt elk, marbled murrelets, martens, and raccoons.
Visitors can arrange trips to remote sections of Clayoquot Sound, which can be accessed by float plane, boat, or kayak, depending on the type of adventure you're looking for. There are also a number of wildlife tours.
Hit the Slopes at Mount Washington Alpine Ski Resort
Just when you think Vancouver Island couldn't get any better, add skiing and snowboarding to the list. While it certainly can't compete with places like Banff, there's still some good skiing to be had on Mount Washington, Vancouver Island's most popular family ski resort. The resort has more than 500 metres of elevation from base to top and there are also opportunities to go cross-country skiing, snowshoeing, tubing, and tobogganing. Even in the summer, alpine hiking is a great activity thanks to the help of the Scenic Chairlift Ride to the top of Mount Washington or the many trails found at the base.
Go Camping on Vancouver Island
If you're looking to go camping, Vancouver Island is one of the best places in Canada. After all, it's home to rainforests, beaches, and a dramatic coastline. We camped on Mystic Beach many years ago and it was unforgettable to crack open a bottle of wine while admiring the sunset. We then woke up to a fine mist that truly did create a mystical vibe.
Of course, that's just one of many camping options on Vancouver Island. From RV sites with all the amenities you can think of to rustic sites right on the beach, there are camping options for everyone. Some popular options include Mystic Beach as mentioned above, as well as China Beach, French Beach Provincial Park, and Kitesurfers camp at Jordan River Regional Park Campground. For something less on the wild side, there's also Living Forest Oceanside Campground and RV Resort in Nanaimo, Brown's Bay Resort in Campbell River, and many others.
Experience Nature and Serenity in Port Renfrew
One of the many highlights of the many things to do on Vancouver Island is a trip to Port Renfrew, a stunning location that's home to rugged wilderness and incredible views. Located only two hours northwest of Victoria, Port Renfrew is worlds apart, offering relaxation and isolation that's hard to beat.
Options for fun include hiking trails to see old-growth forests, hiking trails to see beautiful Botanical Beach and Botany Bay, and even whale-watching tours. In fact, the best whale-watching tour we've ever taken was from Port Renfrew.
We stayed at Wild Renfrew during our visit, a series of beautiful cabins overlooking the sea, but there are also lodges, yurts, and camping opportunities.
Chemainus Wall Murals
Located close to Nanaimo, Chemainus is another one of Vancouver Island's charming towns. People love it for the shops and cafes, but also for its famous murals. Despite its small size, Chemainus is known for its larger-than-life-size murals that decorate the sides of buildings throughout the town, which illustrate the history of the town and are painted by well-known artists. While you're admiring the wall murals, however, don't forget to experience the Chemainus Theatre, which is also well-known for its shows.
Want More Things to Do?
As much as we love Vancouver Island, there's much more to British Columbia! For more things to do in this stunning province, check out our travel guides below: