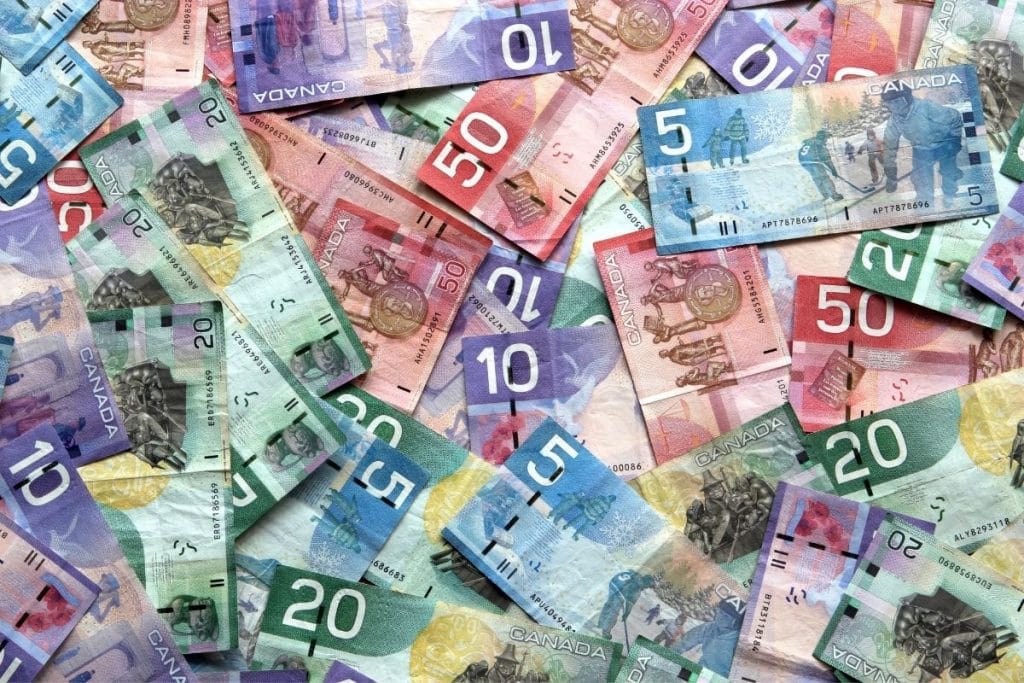 Canadian Money is often referred to as monopoly money thanks to its bright colours and unique artwork. Unlike the less interesting "greenback" used in the United States of America, which all looks more or less the same, Canadian currency is truly beautiful. In fact, Canada's bills and coins all feature pictures of important national symbols, which make them works of art. In this article, we'll teach you all about Canadian money.
What is the Currency in Canada?
Canadian money is referred to as the Canadian dollar ($). In Canada, we use both coins and paper money. However, Canada is also one of the most credit-card-friendly countries in the world with more and more people using either credit cards or debit cards, which is much more convenient than carrying around cash and worrying about change. We very rarely use cash ourselves. However, we do like to always have $20-40 in cash on hand just in case.
The Canadian Dollar
While today's Canadian currency is very recognizable and strong, it's only been in place since 1870. Prior to that, a variety of currencies were in use throughout "Canada", including the British Pound, the American Dollar, and even the Spanish Peso. Now, we use the Canadian dollar, which is made up of 100 Canadian cents.
As a British Colony, our money was once tied to the value of the British Pound and then to the price of gold. Today, it is known as a "free-floating" currency with the value being determined by the international marketplace.
Canada also has a strong banking system with the Bank of Canada (Canada's national bank) having the power to both print and buy currency in order to help control the value of Canada's currency. According to the International Monetary Fund, the Canadian dollar is one of the world's seven reserve currencies and is known for its stability and reliability.
Like many countries, the Canadian dollar is often measured in comparison to the American dollar. Typically, the Canadian dollar is worth less than the American dollar but there have been times where it has been worth more, even by as much as 5-10 cents. Oddly enough, many industries in Canada prefer the Canadian dollar to remain slightly less valuable as it encourages American companies to import more goods from Canada.
Canadian Coins
There are currently five Canadian coins in circulation. Some Canadian money, such as the Penny (the One Cent Coin) have been taken out of circulation as they actually cost more to produce than they are worth.
Canadian Coins are produced by the Royal Canadian Mint, which is known among coin collectors as one of the most extravagant and creative coin-producing entities in the world. Not only do they make standard-use coins for Canada and roughly 100 other countries around the world, but they also produce a vast variety of "special edition" coins, including very high-value coins of pure gold, silver, and platinum, as well as fun and trendy novelties like a glow-in-the-dark coin and Marvel superhero coins.
Both the Royal Canadian Mint location in Ottawa and in Winnipeg can be visited with a tour. We've explored the location in Winnipeg and it was a really great way to spend an hour. We even got to lift a very heavy bar of gold.
In addition to the designs below, all of the coins have a portrait of Queen Elizabeth II on the reverse side, and are inscribed with the Latin phrase D.G. Regina, or Dei Gratia Regina, which means "Queen by God's Grace." The Queen's portrait is updated every so often, meaning it's easy to tell at a glance how old a coin is based on how old Her Majesty looks.
Canadian Toonie
Also known as the "Twoonie", this $2 coin is made of two different colours of metal. It replaced the old two-dollar bill in the mid-nineties and has a polar bear on it.
Canadian Loonie
The Loonie is Canada's $1 coin and is made of gold-coloured nickel. There used to be a one-dollar bill, but it was phased out in the 1980s. The coin was given the name "Loonie" because it features a picture of a loon on it, which is the national bird of Canada.
Canadian Quarter
The "Quarter" is our 25-cent silver-coloured coin, which got its name because it's worth a quarter of a dollar. It depicts a caribou, one of Canada's beloved antlered animals that can be found in many provinces.
Canadian Dime
The "Dime" is what we call Canada's 10-cent piece. It's the smallest coin by size and is very thin. Its design features the Bluenose, a famous Canadian sailboat that was the fastest racing ship in the world for almost 20 years.
Canadian Nickel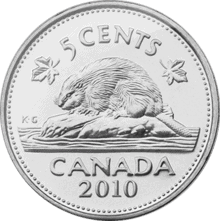 The "Nickel" is what Canadians call the 5-cent piece. Oddly enough, It's actually larger than the dime and both thicker and heavier. This coin got its name as it was once made of nickel. However, today they're made of steel.
Canadian Penny (Retired)
The penny, which is what we call the 1-cent coin, is made of copper-plated steel and features the maple leaf, a common symbol of Canada. However, due to its cost to produce, the Government of Canada stopped producing them in 2013. Cash payments are now rounded to the closest five cents.
Canadian Bills
Canadian paper money, also known as bills, banknotes, or simply notes, is used for larger currency denominations. Although they were once made out of paper, similar to U.S. dollars, the current designs are created out of a thin, flexible plastic known as a polymer. These are a lot more durable than the previous paper bills, which were phased out in 2011. As mentioned previously, our money is often joked about as Monopoly money due to its vivid colour and creative designs. All of our bills tend to feature designs of inspiring Canadians or achievements as well as popular past times.
5 Dollar Canadian Bill
Canada's $5 bill is the smallest bill, is blue in colour, and features a portrait of former prime minister Wilfrid Laurier (1841-1919), the first French-Canadian to lead Canada. On the reverse, it depicts the Canadarm, a robotic arm that was designed in Canada and used on NASA missions between 1981 and 2011.
Fun Fact: Star Trek seems too big in Canada. For years, Canadians have been known to deface certain editions of the five-dollar note by using ink pens to alter Laurier's face to resemble Spock, the Star Trek character portrayed by Leonard Nimoy. This is known as "Spocking Fives". Surprisingly, this is not illegal, but the Bank of Canada did ask people to stop. Then they got smart and simply changed the image to be less Spock-worthy.
10 Dollar Canadian Bill
Canada's $10 bill is purple in colour and features a portrait of John A. Macdonald (1815-1891), Canada's first prime minister and founder of the nation. On the back, you'll find a tribute to the cross-country Canadian railroad — Macdonald's signature accomplishment — and a picture of The Canadian, which is the Vancouver-to-Toronto train service run by VIA Rail, Canada's state-run railway.
However, there is a new vertically-designed $10 bill that is now in circulation featuring Viola Desmond, a successful black businesswoman who was jailed, convicted, and fined for defiantly refusing to leave a whites-only area of a movie theatre in 1946. Her court case was an inspiration for the pursuit of racial equality across Canada.
20 Dollar Canadian Bill
Canada's $20 bill is green in colour and features a portrait of Canada's monarch, Queen Elizabeth II (b. 1926). Before they were retired, she was also featured on the $1 and $2 bills. The other side features the Canadian National Vimy Memorial, which is a monument in France honouring the more than 3,000 Canadians who died in the Battle of Vimy Ridge (1917), a decisive Allied victory in World War I (1914-1918).
50 Dollar Canadian Bill
Canada's $50 bill is red in colour and features William Lyon Mackenzie King (1874-1950), the eccentric prime minister who led Canada through World War II (1939-1945), and much of the early-to-mid 20th century, making him the longest-running prime minister in history. The backside features the CCGS Amundsen, which is a state-of-the-art icebreaker ship that is used to help the Canadian Coast Guard do research and exploration work in the Canadian arctic.
100 Dollar Canadan Bill
Canada's $100 bill is gold in colour and features Robert Borden (1854-1937), who was prime minister of Canada during World War I (1914-1918). Featured on the backside is a salute to Canadian science research, including a depiction of insulin, which was discovered by Canadian scientist Frederick Banting (1891-1941). As great as it is to hold a $100 bill, do note that many stories in Canada don't accept these bills since they are most subject to counterfeiting. This is part of the reason why the $1,000 bill was discontinued years ago.
Retired Currencies of Canada
As a kid growing up throughout the 80s and 90s in Canada, I'll always remember the light red-coloured $2 bill. I still have many of them. However, this $2 bill, along with the $1, $25, $500 and $1,000 bills from every Bank of Canada series are no longer legal tender and have not been produced in decades. The latest Canadian money (bill) to be removed as legal tender was the $1,000 bill, which seized function in the year 2000. The $1 and $2 notes stopped being issued in 1989 and 1996, respectively, and both the $25 and $500 notes were commemorative notes from the early 1930s.
While these bills can no longer be used as legal tender, the Bank of Canada will buy them back at face value if you don't want to keep them as a souvenir. In fact, many of these bills face higher valuations on sites such as eBay.
Want to learn more about Canada?
Canadian money is one thing but how about the flag, the languages, and the people? How about cool facts about certain provinces and territories? For more cool facts about Canada, check out these articles below: