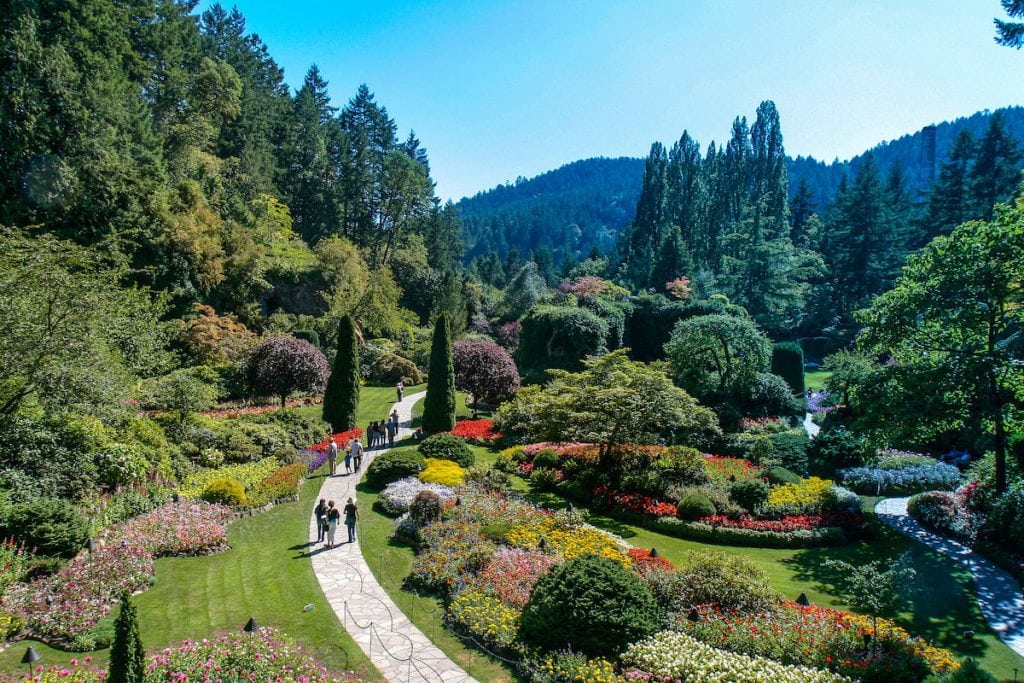 Things to Do in Victoria – Last updated: January 10th, 2023
When it comes to beautiful Canadian cities, Victoria is definitely high on the list. Located on the southern tip of Vancouver Island, Victoria is British Columbia's capital and one of the oldest cities in the Pacific Northwest. A British settlement since 1843 and named after Queen Victoria, the city is home to a variety of historic buildings, including the beautiful parliament buildings and the world-famous Empress Hotel. The city is also home to the oldest Chinatown in Canada, vibrant First Nations communities who have called this place home long before European settlement, and is widely known as "The Garden City" thanks to its mild weather and almost year-round gardens.
Victoria is also ranked as one of the top 20 cities worldwide for its quality of life and is relatively snow-free in the winter months, something rather unusual for a Canadian city. Another benefit of visiting Victoria is the city's surroundings, which include a stunning Pacific coastline, lush rainforest, and beautiful mountains. It's also conveniently located near both Vancouver, BC, and Seattle, Washington.
If you're looking to visit a beautiful laid-back city surrounded by outdoor adventure and nature, Victoria should definitely be on your bucket list. In this Victoria BC Travel Guide, we'll share with you some of the best things to do in Victoria while also sharing some tips on saving money, how to get around, where to stay, and much more.
Planning your trip to Victoria last minute?
Below are some of the top tours, hotels, and more! Don't forget to plan ahead when considering the top things to do in Victoria!
🇨🇦 Top Activities and Tours in Victoria:
🛌 Top Hotels in Victoria:
Fairmont Empress (luxury)
Inn at Laurel Point (mid-range)
Red Lion Inn & Suites (budget)
🚗 Visiting Victoria independently? Be sure to book your Victoria rental car ahead of time to ensure availability!
Getting to Victoria BC
If you're a visitor looking for different ways of getting to Victoria, here's some practical advice on how to get there.
Getting to Victoria by Plane
If you're flying into Victoria, you'll most likely be flying into Victoria International Airport (YYJ). Although there are other smaller airports around the island, this is the one that gets used by most visitors. It's located just 25 minutes from downtown, is the 3rd busiest airport in British Columbia and offers easy access to downtown Victoria, including by public bus or taxi. The public bus costs $5 CAD but space for baggage is limited.
Getting to Victoria by Car and Ferry
Victoria is also a great place to visit by car, especially if you plan on exploring more of Vancouver Island. If you're driving to Victoria, you will need to take a ferry from the mainland to either Victoria or to Nanaimo. Most people would be either driving west from interior BC and Vancouver or potentially south from Washington. The crossing time is approximately 1.5 hours. The BC ferries leave from Vancouver's Tsawwassen to Swartz Bay (Victoria). The other option is to take the ferry to Nanaimo, and then drive 2-hours to Victoria. The cost for a car and driver is approximately $75 CAD for a one-way trip. However, it's much better to get a rental car and have all the freedom you need. Depending on timing, you want to arrive 1-2 hours earlier than the ferry departure as it can be very busy. Upon arrival, you will be in Sidney, BC, which is 32 km (20 miles) north of Victoria, taking approximately 30 minutes by car to reach downtown Victoria. You could also take a ferry to Nanaimo and travel to Victoria from there.
Connecting to the Ferry from YVR: Tsawwassen is the closest ferry terminal to Vancouver Airport for those looking to take the ferry to Victoria, BC. For more information on how to take the bus from Vancouver Airport to the Victoria ferry. You can take public transportation from the airport to the ferry, or if you rent a car, just drive to the ferry terminal.
Seattle to Victoria Ferry: Another really cool feature about Victoria BC is that you can actually take a ferry right from downtown Seattle to downtown Victoria, sailing through some really beautiful coastal scenery. The journey takes approximately 3 hours and starts at around $110 USD.
Getting to Victoria by Bus
Just like driving to Victoria, the only way to get to Vancouver Island is to take the ferry. There is no bus that takes you all the way to Victoria from Vancouver. However, you can take a bus to the ferry, and then another bus from the ferry to Victoria. This entire route will take approximately 4 hours. Basically, you need to take the Canada Line and ride the SkyTrain to Bridgeport Station and then take bus 620 from bay 11 to Tsawwassen ferry terminal (45 minutes or more). Jump on the ferry and take it to Swartz Bay (1.5 hours). Once on Vancouver Island, catch the 70 express bus or 72 bus to downtown Victoria (1 hour +). The total cost, including the ferry, will cost around $30.
Getting to Victoria by Tour
Another option for exploring Victoria and Vancouver is a tour from Vancouver that includes the ferry.
How to Get Around Victoria
Victoria is not a huge city, and thus, there is no subway train system. There is, however, a pretty good public bus network, as well as taxis to get you around. You could also rent a car, or if not going too far, Victoria is also a great place to walk or bike.
Bus: Public bus will take you almost anywhere you need to go within Victoria, as well as to the airport and the ferry terminal. Check the BC Transit schedule and also NextRide, which provides real-time bus arrival. Another option is to take the Hop-On Hop-Off double-decker bus, which takes you to all the popular tourist sites, allowing you to get on and off as you please.
Taxi: Like most of Canada, taxis are not cheap but they can be convenient. Prices start around $3.50 CAD and go up by $1.89 CAD per kilometre after.
Bicycle: Victoria is a wonderful city to traverse by bike. There are a variety of options for renting a bike, including electric bikes as well. Another option is the u-bike, which you just grab and go across the city. The only thing you'll need in advance is an account. The cost is approximately $1 for 30 minutes.
Walk: If you're only going to be exploring downtown Victoria, walking is the best way to do it. There are even self-guided walking tours and paid tours you could partake in.
Carshare: Another way to get around is by carshare, which is currently operated by both Modo and Zipcar.
Harbour Ferry: For inner-city travel, the Harbour Ferry is a great way to get around and enjoy the beautiful coastal scenery. It runs from mid-February until the end of October (weather permitting).
Weather for Victoria Travel (Best Time to Visit)
Victoria is one of the mildest cities in Canada, receiving very little snowfall and rarely dipping below 0°C. It does, however, get quite a bit of rain during the winter months.
March-May: The spring months are actually a great time to visit Victoria, as this is when many flowers being to bloom and the weather warms up. The average temperature is about 10°C – 18°C (50-65 degrees F).
June-August: Like most of Canada, the summer months are the busiest and costliest time to visit. However, this is when the weather is at its warmest. With maximum warmth and minimum rain, this is the best time for getting outdoors and going walking, biking or hiking. It's also a better time to go whale watching. You'll want to consider booking accommodation weeks or even months in advance. The average temperature is around 22°C (73 degrees F).
September-November: The fall is also a great time to visit the island, though you should expect more rain. However, we explored the island in September and had beautiful weather for weeks. We also went whale watching on the last day of the season and had the best whale-watching tour of our lives. You just never know. Just pack a sweater and a rain jacket and umbrella and you'll be fine. The average temperature is 15°C – 20°C (55-68 degrees F).
December-February: These months represent the winter and is known as the offseason in Victoria. If you don't mind colder weather and rain, this is the best time to save money on accommodation as well as avoid crowds. There is also skiing on Vancouver Island if you're looking to go skiing or snowboarding. The average temperature is 9°C (47 degrees F).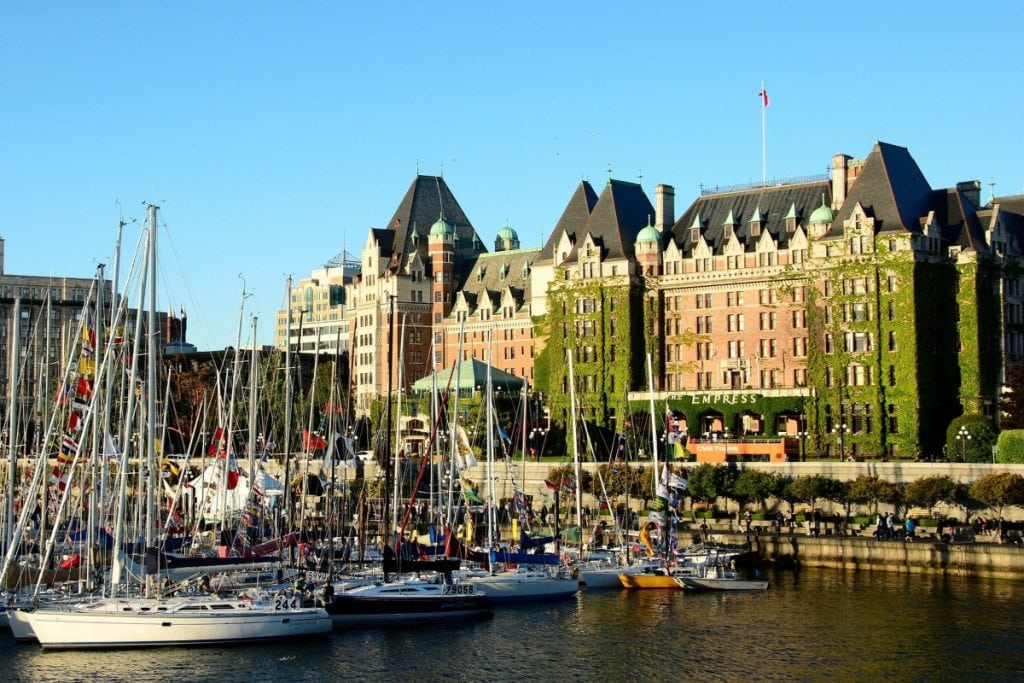 Things to Do in Victoria BC
Victoria is one of the most popular tourist destinations in Canada, which creates loads of attractions, activities, and other things to do. Below is a list of some of the best things to do when visiting Victoria.
Smell the Roses at the Butchart Gardens
Visited by more than one million people each year, the Butchart Gardens has become an icon of Victoria, as well as a National Historic Site of Canada. This breathtaking 55-acre garden is home to 900 bedding plant varieties, 26 greenhouses, and 50 full-time gardeners! Whether you're travelling solo, with your family, or on a romantic date with your partner, the Butchart Gardens is a must-do when visiting Victoria. It's just a stunning place to walk around. However, they also have a Saturday firework show, boat tours, evening entertainment, and a lovely gift shop. Roses, tulips, daffodils, hyacinths, and Japanese maples are just some of the magnificent flora you might see in this world-famous garden.
Prefer a tour? Click here to learn more about a popular tour from Vancouver that includes the Butchart Gardens and downtown Victoria.
Visit the Royal BC Museum
Founded in 1886, the Royal British Columbia Museum is a great place to learn about BC's natural and human history. There are three permanent galleries inside, including Natural History, Becoming BC, and the First Peoples Gallery. The natural history collection alone has more than 750,000 records of specimens that are almost exclusively from the province. The Royal BC Museum is also home to touring exhibitions, such as the Titanic, Egyptian artifacts, and the Vikings. You can also watch educational films and commercial films at the IMAX Victoria theatre. It's also conveniently located within walking distance from the Empress Hotel and the inner harbour.

Visit Fisherman's Wharf
Not far from Victoria's Inner Harbour is the lovely floating neighbourhood of Fishermans Wharf. This hidden treasure is a great place to eat food, shop at unique stores, and go on eco-tours. This place was busy with people eating fresh seafood when we visited, but our favourite part was touring the floating homes and just imagining what it would be like to live in a house that moves with the water. I believe we even saw some guesthouses if you want a really cool experience in Victoria.
Travel Idea: Click Here for the Victoria Harbour Smartphone Audio Walking Tour.
Go for a Stroll at Beacon Hill Park
If you're looking for a beautiful park to stroll around for the afternoon, you'll be hard-pressed to find one better than Beacon Hill Park, which is conveniently located in downtown Victoria. Simply walk up Belleville Street past the Museum of Natural History and the Imax Theatre to Douglas Street, take a right, and then climb a short hill until you reach the top. Beautiful inner-city nature awaits you. However, do note that the park is a whopping 200 acres in size, so plan your visit accordingly.
Explore the Inner Harbour and Victoria Pier
One of the best things to do in Victoria is to simply stroll along the inner harbour, which is one of the most beautiful harbours in the world. This is where you'll find many historic streets and buildings, as well as a variety of festivals and shows throughout the summer. It's also home to an international ferry terminal, float planes, and many ecotourism businesses.
Take a Walking Food Tour
One of the great things about taking a walking tour is that you'll actually learn about the place you're visiting. You'll learn about the street you're walking on or the neighbourhood you're walking through, helping to make the city truly come alive for you. However, taking a 3-hour food tour with A Taste of Victoria Food Tours will add the experience of trying a variety of delicious food from local restaurants and bakeries. This was one of our favourite ways of exploring Victoria as we got to learn some history while sampling things like Italian baked goods, perogies, homemade ice cream, balsamic vinegar and olive oils, and some delicious meatballs.
Click Here to Book Your Food Tour!
Visit the Victoria Parliament Buildings
Right next to the Inner Harbour is the impossible-to-miss British Columbia parliament buildings. Overlooking stunning Victoria Harbour, these beautiful historical buildings are as beautiful on the outside as they are on the inside. Visitors are able to do self-guided tours of the buildings or can go on a regularly scheduled 35-minute guided tour, which occurs seven days a week during the summer months. The Parliamentary Dining Room and Gift Shop are also open to the public year-round.
Go inside Craigdarroch Castle
For a Victorian experience and a real-life example of a "bonanza castle" – massive homes built for wealthy entrepreneurs during the industrial age – you'll want to visit the Craigdarroch Castle. Built between 1887 and 1890 on a hill offering impressive views of the area, you'll find four floors of exquisite stained-glass windows, intricate woodwork and fabulous Victorian-era furnishings.
Tour Alert: Click here to visit the castle as part of a private tour from Vancouver.
Go Whale Watching
One of the top things to do in the warmer months is whale watching. Thanks to an abundance of orcas (killer whales), the areas around Victoria and Vancouver Island are some of the best places in the world for these majestic marine animals. While we haven't gone whale watching directly from Victoria, we have done it a few hours north in Port Renfrew, which was the best whale-watching tour we've ever done. We've also experienced Vancouver whale watching on the mainland and it was also very good. Highly recommended!
Orca Spirit Adventures: This is the company we were with just off the coast of Port Renfrew. Despite being the last day of the year for tours in Port Renfrew, we saw dozens of Humpback whales and orcas, making it the wildest whale-watching tour of our lives.
Click here to book a VERY POPULAR half-day whale-watching tour!
Go Small at Miniature World
Honey, I shrunk the kids! Remember that movie? Now you can somewhat experience that at one of Victoria's top tourist attractions – Miniature World. This little world features more than 85 miniature dioramas and displays, including the world's smallest operational sawmill, the Great Canadian Railway, one of the world's largest model railways, and even two of the world's largest Doll Houses circa 1880 complete with over 50 furnished rooms! Talk about attention to detail!
Abkhazi Garden
This is yet another reason why Victoria is nicknamed "The Garden City". Complete with an exquisite heritage home, the beautiful Abkhazi garden was created in 1946 by Prince and Princess Abkhazi. It's only one acre in size but features dramatic glaciated rocky slopes, magnificent native Garry oaks and gorgeous vistas, Japanese maples and rhododendrons, carpets of naturalized bulbs, and much more. It might be small in size but it's the overall design that leaves the greatest impression upon visitors.
Visit the Victoria Bug Zoo
First, a miniature world and now a miniature zoo? What's with Victoria and the little things in life? For those interested in insects and spiders, this is the place to be! this is a great opportunity to view and experience multi-legged creatures from around the world in a safe, fun and friendly atmosphere. You'll find approximately 50 species, including Canada's largest ant colony, giant walking stick bugs, alien-eyes praying mantids, and even glow-in-the-dark scorpions. Whether you're with kids or not, bring your camera for an unforgettable experience at the Victoria Bug Zoo!
Stop by the Empress Hotel
The Fairmont has done it again. This hotel is not only one of the top tourist attractions in the city but also one of the most historic buildings as well. Stepping inside is like stepping back in time to the days of the British Empire. Admiring the flora crawling up the building from the outside is just stunning. This iconic Canadian Pacific Railway hotel was built between 1904 and 1908 and has become one of the world's most famous hotels. But even if you don't want to shell out the dollars to spend the night at the Empress Hotel, you can just visit the hotel or even partake in afternoon tea, which is served in the lobby to more than 800 visitors per day.
Tour Idea: Click here for a Victoria Scavenger Hunt Walking Tour.
Explore Chinatown
It's quite amazing how many cities around the world are home to Chinatown. But Victoria's is unique in that it's the second oldest Chinatown in all of North America, second only to the one in San Francisco. Created by Chinese immigrants more than 150 years ago, Chinatown has become a testament to the resiliency of the culture and traditions brought overseas long ago. From the Gate of Harmonious Interest to the bold colours of lucky red and gold throughout the neighbourhood, Chinatown is simply a place you shouldn't miss when visiting Victoria. While there, don't miss meandering down Fan Tan Alley as well, which is one of the narrowest streets in Canada.
Go Kayaking
Regardless if this is your first kayaking adventure or if you consider yourself a pro, Victoria is an awesome place to paddle and is the gateway to world-class paddling destinations around Vancouver Island. It's a wonderful way to get some exercise while getting unique views of the harbour and the city, while also having the opportunity to spot local marine wildlife. Being surrounded by water, Victoria offers a huge variety of paddle sports experiences from the serenity of a calm lake, or the joy of an urban paddle on the inner harbour, all the way up to the excitement of a quick-moving current. It's not just kayaking either. Paddle-boarding is also popular, as are canoeing and other water vessels. The best time for kayaking in Victoria is April through October, but thanks to the city's mild climate, it's possible to paddle all year long. There are many companies offering rentals and tours.
Go Sailing
As you might imagine, with so much water surrounding the city, sailing is another popular activity in Victoria, BC. Whether you want to learn how to sail or just go for a scenic tour around the harbour, this is a great place to do it.
Get Amazing Views from the Malahat Skywalk
If you're looking to get incredible views of the surrounding islands and sea, check out the Malahat Skywalk, which is only 30 minutes from Victoria. This new incredible lookout attraction rises up to 250m above sea level, offering a sweeping panorama view of Mt. Baker, Finlayson Arm, the Saanich Peninsula, and islands in two countries. While you're up there, walk out onto their sturdy 84 ㎡ Adventure Net and be suspended above the centre of the tower with uninterrupted views of the lush arbutus forest and the spiralling structure beneath your feet. Even better? Choose to take the ramp back down or go even faster on their 20-metre Spiral Slide, all the way to the bottom.
Go Hiking
With so much nature surrounding the city, Victoria is an awesome base for stunning hiking opportunities. Whether you hike in the city or outside the city, there is no shortage of trails and natural sites, including waterfalls, mountaintops, historic sites, and coastal treks. Most trails are only 30 minutes outside of downtown but will make you feel like you've gone deep into the backcountry, except with more people. Trailheads are well signposted, usually with maps, and trails are very well maintained. Most hiking trails are open year-round and are dog-friendly as long as they are on a leash. Some popular options include Coast Trail in Sooke, Mount Work Hiking Trail, Thetis Lake Hiking Trail, and the Trestle Bridge Hiking Trail in Goldstream Provincial Park, just to name a few.
See the Victoria Butterfly Gardens
Who doesn't love butterflies? Well, now you can step into an indoor tropical rainforest filled with thousands of butterflies fluttering about the place. There are over 70 species of these magical creatures to see, as well as koi fish, turtles, poison dart frogs, parrots, flamingos, and many tropical flowers.
Click here to purchase your ticket to the Butterfly Gardens.
Get a View from the lookout
If you're looking for one of the best views of the city, head on over to the downtown Harbour Centre's observation deck for panoramic views over Victoria, as well as the neighbouring mountains and ocean. Click here to see ticket prices.
Fort Rodd Hill National Historic Site
If you're looking for a Parks Canada National Historic Site, this 19th-century coastal artillery fort is bound to satisfy. Tour through secret bunkers, military command posts and original 19th-century buildings while also having the opportunity to camp overnight in group-friendly oTENTik's. There's also the adjacent Fisgard Lighthouse National Historic Site, which is home to Canada's west coast's first lighthouse.
Do Day-trips to the Smaller Islands
While Vancouver Island is quite big, there are actually hundreds of smaller Gulf Islands and inlets in the Georgia Strait around Victoria, BC. These make for excellent day trips. You could rent a boat, arrange a tour, or even take the ferry to popular islands such as Gabriola, Saltspring, and/or Thetis. Once on the little islands, you can simply relax in nature, go biking or hiking, visit local artisans and eateries, or find yourself a nice beach to whisk the day away. Ferry rates are about $10 CAD ($7 USD).
Explore Vancouver Island
While some certainly visit Victoria just for Victoria, we highly recommend taking another week or more and exploring more of Vancouver Island. It's truly a special place and one of the most beautiful areas in the country. You'll find gorgeous rainforest treks, mystical coastal beaches, jaw-dropping waterfalls, lovely little island towns, and the best surfing in Canada out by Tofino. There are also whale watching and wildlife tours all over the island, the opportunity to go snorkelling with salmon around Campbell River, and some of the best multi-day hikes in North America. Where will you go?
Tips for Saving Money in Victoria
With a little effort, you can turn Vancouver Island into an affordable travel destination. Most of the outdoor stuff is free so if you stick to that and cook your own food, you can keep your costs pretty low! Here are some of my ways to save money when you travel to Vancouver Island:
Couchsurf: Although Couchsurfing requires quite a bit of upfront work, it can be a great way to meet locals while saving mega dollars on accommodation.
Camping: Vancouver Island is home to a plethora of camping opportunities for those well-equipped. Use the DiscoverCamping.ca website to find potential campsites around the island. Expect to pay around $20 CAD or more per campsite.
Happy Hours: When looking for pubs and restaurants, find out if they have a happy hour. This is a great way to save money on food and drinks, while still enjoying the dining scene of each place.
Go Car-Free: If you're only planning on visiting one city, such as Victoria or Nanaimo, consider leaving behind your vehicle and taking the ferry as a single person. You'll save more than $50.
Go Biking: Vancouver Island is one of the top places in the country for mountain biking, so if you have the experience, you can save a lot of money by biking from destination to destination.
Hitchhike: Considering its popularity, there are many opportunities to try hitchhiking. Obviously, you'll want to check with the local laws beforehand, but this can be a great way to save money. This should only be considered if you have lots of time.
Where to Stay in Victoria
Victoria is home to a plethora of accommodations, ranging from budget hostels to super high-end hotels and everything in between. We've listed some good options below but for all the best options, check out our guide to the best hotels in Victoria.
Fairmont Empress: If budget is of no concern, it's hard to beat the famous Fairmont Empress, which offers a spectacular location and a wide variety of amenities such as a spa, pool, restaurants, and more. Click here to see reviews and availability.
Abigail's Hotel: With almost all 5-star reviews, this beautiful hotel offers a wide variety of amenities such as free delicious breakfast, free parking, and even a small library to relax in. Guests rave about the comfortable beds as well. Click here to see reviews and availability.
Helm's Inn: Located just outside of popular Beacon Hill Park. this all-suite hotel offers spacious accommodations, free WiFi, a refrigerator, a microwave, and very high reviews. They also have some kitchenettes available and have a coin-operated laundry facility on-site. Click here for reviews and availability.
Marketa's Bed & Breakfast: This is where we stayed during our 150-day road trip across Canada. The breakfast alone is worth the stay, including home-baked scones or muffins, Montreal-style bagels, French toast, and more. This heritage home showcases Edwardian décor, has four-poster beds, and is very centrally located and within walking distance of many popular sights. Click here for reviews and availability.
Where to Eat in Victoria
There's no shortage of places to chow down in Victoria.
Spinnakers: This is definitely the coolest place we ate at during our visit to Victoria. Not only is it a fancy pub but it's also a brewery. From Kale Caeser to Shrimp Flatbread and Wild Pacific Halibut Fettacunni, Spinnakers is a great place for any meal of the day. But what makes it more special, aside from the views and ambience, is that they also brew their own beer. There are lots of options so we ended up having their beer and chocolate pairing flight, which included four house beer tasters and four handcrafted house-made TCHO Chocolate Truffles by Chocolatier Crystal Duck. We can't wait to go back!
Fun Things to Do on Vancouver Island and Beyond
Another great part about Victoria is that there are so many things to do outside of the city as well. From going hiking in the rainforest to camping on a beach to driving up to Tofino to go surfing, Vancouver Island is a place you could spend weeks exploring. You could also head over to Vancouver and continue exploring mainland Canada. The options are seemingly endless.
For more on what to do outside of Victoria, check out these articles below: