Last updated: March 23rd, 2020
As one of Canada's most popular natural attractions, Niagara Falls has been attracting visitors for more than a century. Some even consider it one of the world's natural wonders. It is a very beautiful place and a very popular place to visit, both on the Canadian side and on the American side.
As you may know, Niagara Falls splits the border between Ontario, Canada, and New York, USA. You can view the falls from both the American side and the Canadian side but, in our humble opinion, the best way to see them is from the Canadian side. This is where you can get up close and personal with Horseshoe Falls, the most impressive of the three falls that make up Niagara Falls. Horseshoe Falls is the one you've all seen in photos. However, there's also American Falls and Bridal Veil Falls.
Before we get into how to get the best views of Niagara Falls Canada, I wanted to share some cool facts about Niagara Falls with you.
The 3 waterfalls (Horseshoe, American, and Bridal Veil) combine to produce the highest flow rate of any waterfall on earth.
The largest vertical drop is over 50 metres (165 feet).
The Niagara Falls are a major source of hydropower, producing a lot of electricity
Although the force of Niagara Falls is controlled, they let it go strong during the popular summer months, when up to six million cubic metres of water flows over the crest each minute.
Niagara Falls occurs as water drains from Lake Erie into Lake Ontario.
If erosion continues at its current rate, scientists believe that Niagara Falls will be gone in approximately 50,000 years. Get there fast!
Roughly 30 Million people visit Niagara Falls each year
People have gone over the falls, despite it being illegal to do so. Some have even survived, but many were injured or killed.
People have tight-roped across the falls. First in 1859, and again in 2012.
Niagara Falls is one of the most popular things to do in Ontario.
As you can see, Niagara Falls has been a source of inspiration for years, whether that inspiration has been to go over them and survive or simply kick back and enjoy the wonderful views.
If you do make it to this beautiful area, there are many different ways to see Niagara Falls.
Things To Do In Niagara Falls Ontario
The Niagara Falls Promenade
Everyone who visits Niagara Falls will see them from the main promenade. This is the sidewalk that snakes its way along the cliff, looking down at Niagara River before reaching the top of the falls. You can see the falls right up close and personal or for from far away. If you walked the entire sidewalk, it would likely take you 30 minutes. However, the best place to see them is right at the crest, witnessing the water drop off. For us, it's mesmerizing to see up close.
Go Behind the Falls
Another popular thing to do is to go behind the falls. This is a paid attraction put on by Niagara Parks. What you do is go inside the building that's located right next to the promenade and the crest of the falls and buy your ticket. There are two parts to the "Behind the Falls" attraction. First, you'll get to go down onto a platform that sits right next to Horseshoe Falls. They'll give you a plastic rain poncho if you need one because you'll definitely get a little wet. For us, this was one of the coolest things to do as the view is hard to beat. Once you've had enough of this area, you'll walk through 130-year-old tunnels built into the bedrock and actually go behind the falls. This is usually busy and so you're will be very limited but it's a cool way to see the falls from behind and to hear the thunderous sound they make as they fall 160 feet.
Go on a Cruise at Niagara Falls
Probably the most popular thing to do of all the Niagara Falls attractions, taking a cruise to the base of the falls is an incredible way to see their fury, their beauty, and to taste the water. That's right, you'll definitely get a little wet on the cruise but if you open your mouth, you'll get to taste Niagara Falls! On the Canadian side, the cruise operator is called Hornblower Niagara Cruises while on the American side the cruise is operated by Maid of the Mist. This is a quick 20-minute tour that operates like clockwork. Show up, by your ticket, and get up close and personal with Niagara Falls. This cruise is a great thing to do in Niagara Falls with kids and as a couple.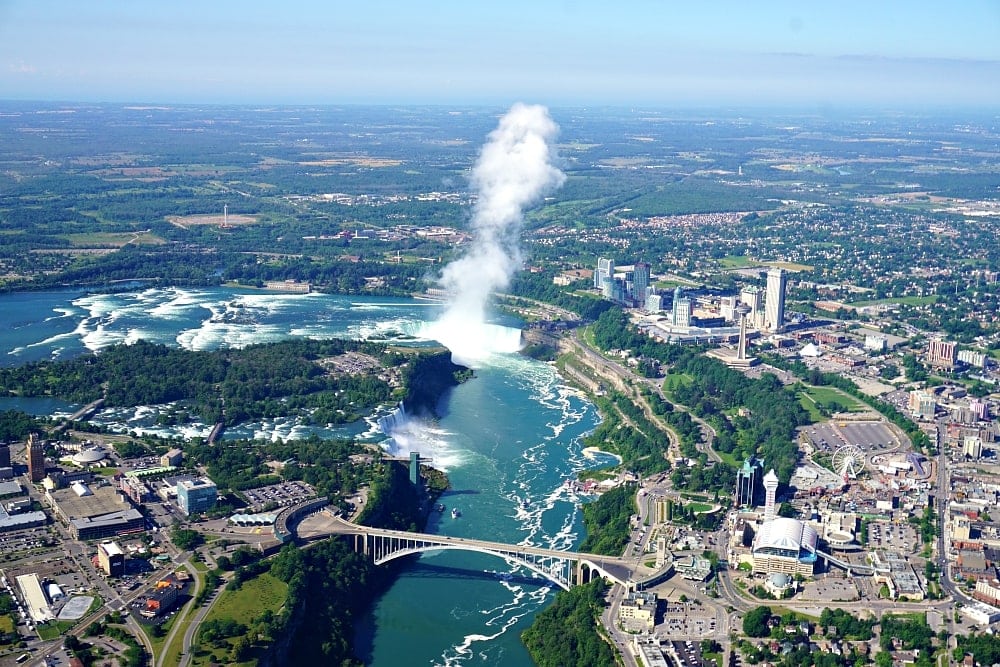 Helicopter Flight Over Niagara Falls
While this is the most expensive way to see the falls, it's certainly worth the price. For just $, you can take a 12-minute helicopter flight over Niagara Falls, witnessing from the sky as the mist rises high above the falls. As someone who truly loves a world-class view, nothing can be a helicopter tour over Niagara Falls. It's just so beautiful to see them from high up and see all landscapes surrounding them. This is also one of the best things to do in Niagara Falls for couples.
Note: You can save $10 off your Niagara Falls helicopter ride with the Canada Saver Card! You can also save 20% off a helicopter flight over Toronto!
Whitewater Walk
This is another Niagara Falls attraction organized by Niagara Parks Ontario and is basically a self-guided tour along Niagara River. You won't actually see Niagara Falls on the whitewater walk but you will get to walk next to the powerful class-6 rapids and see how much power is generated downstream from the falls. It's a beautiful walk with many different viewing platforms and educational platforms about the geology of the Niagara Gorge and the plant and animal life you might see during your visit.
Whirlpool Aero Car
Designed by renowned Spanish engineer, Leonardo Torres Quevedo, the Whirlpool Aero Car has been treating visitors to beautiful views since 1916. The antique cable car offers spectacular views of the swirling Niagara Whirlpool and the boats that take people down the class-6 rapids. While you will not see Niagara Falls from this attraction, it's another good way to see the powerful river that it creates.
Fun fact: Although the Whirlpool Aero Car travels between two Canadian points, you will technically cross the international borderline between Canada and the United States for a total of four times each trip! No passport required.
What To Do In Niagara Falls Canada
Niagara Falls is one of the biggest tourist attractions in Canada. For us, it's like Las Vegas in a way, with a variety of casinos, hotels, and places like Ripley's Believe or Not. Finding Niagara Falls activities and fun things to do in Niagara Falls will not be hard. It's one of those places that can be designed for couples, families, and solo travellers.
Things To Do around Niagara Falls
If you like wine, you're in luck. Niagara Falls is located just 30-minutes away from Niagara on the Lake, one of Canada's most prominent wine regions. Here you'll find hundreds of wineries to visit and do wine tastings. The town of Niagara-on-the-lake is also beautiful and historic and is home to an array of delicious restaurants and bakeries.
Niagara Falls Trip – Planning a Trip to Niagara Falls
If you're visiting Niagara Falls and reading this blog, you're probably looking for ways to make it the best trip ever. Niagara Falls is extremely popular and a very easy place to visit with as a couple or as a family with kids. Since this is Must Do Canada, we only talk about the Niagara Falls Canada side. After all, we've never been to the American side.
Niagara Falls is located on the Canada-USA border, just 1.5 hours south of Toronto and only 30-minutes away from Niagara-on-the-lake. There's a bridge that crosses the border to Buffalo, New York. There are many hotels, ranging from budget to luxury, and there are also hotels that offer views of the falls. As you can see from above, there are many ways to see Niagara Falls, so if a Fallsview hotel is not in the budget, just stay further away from the falls. There are buses that take tourists all over the area, and many hotels are walking distance. There are also hundreds of taxies.
The busiest time to visit Niagara Falls is during the summer. If you're visiting at this time, you'll want to book far in advance to ensure you have a hotel. Spring and fall will be less busy and the winter will be the least busy time of year to visit. We've never been during the winter but from the pictures we've seen, it looks absolutely beautiful with snow all around.
Niagara Falls holidays are the same as Canada as a whole. The busiest holidays will be New Year, Canada Day, Victoria Day, and Labour Day.
If you're looking for other things to do in Niagara Falls, we recommend these articles below:
LIKE THE POST? PIN IT!