Last updated: September 1, 2020
Summer in Canada might be short, but it's also incredibly beautiful. Whether you're looking to get outdoors or explore one of Canada's world-class cities, the summer is the most comfortable time to visit. Summer in Canada is also the most popular time to visit, not only due to the pleasant weather but also due to the wide range of activities, including city tours, water sports, hiking, road trips and more.
However, this also means that summer in Canada is the busiest time to visit. Even though winter in Canada is remarkably beautiful, it's also a much more difficult time to visit, due to the cold weather and the slippery roads. Most tourists visit during the summer to avoid the harsh weather and enjoy the super long days of a Canadian summer. This means that accommodation prices are often higher, tourist attractions are busier, and costs are generally more expensive all across the board.
Either way, a summer in Canada should not be missed. Whether it's kayaking one of our millions of lakes, exploring our vibrant downtown cores, or simply enjoying a bright sunny day that doesn't end until close to midnight, there's a reason why both Canadians and visitors can't wait for the warmer months to arrive.
What's the Weather like During Summer in Canada?
Officially, the summer in Canada runs from June 20th – September 22nd, but how warm it is will largely depend on where and when.
Depending where you go, it can be very hot. Canada is a land of weather extremes. Whereas the winter in Canada can be as cold as -40 Celcius, the summers can be as hot as +40 degrees Celcius. Some of the hottest regions around Canada include interior British Columbia, southern Alberta, and even major cities such as Winnipeg, Toronto, and Montreal. Coastal cities, such as Victoria and Halifax, are often milder in all seasons, which make them popular places to visit for those who don't like high heat. Generally speaking, summers in Canada are either warm or hot.
The hottest cities would be places like Toronto, Ottawa, Montreal, Winnipeg, Calgary, and Vancouver. The prairies, such as southern Alberta, Saskatchewan, and Manitoba can be very hot in the peak summer months, whereas southern BC, such as Kelowna and Osoyoos, are some of the hottest regions in the country. In fact, they're deserts! At the same time, the weather can fluctuate immensely on a day-to-day basis. Living in Calgary, I've seen 38 degrees Celcius one week and just 15 degrees Celcius the next week. But if you truly prefer milder climate, you'd probably prefer coastal cities such as Victoria, Halifax, and St. John's – just to name a few.
One of the nice things about visiting Canada in the summer versus the winter is that you don't need to prepare nearly as much. In the winter, you really need to make sure you have very warm clothing when exploring the outdoors, and when it comes to road trips, you need to be prepared to drive over snow and ice. The summers, however, are similar to everywhere else. Many days you'll be able to get by with shorts and a t-shirt, but you'll always want to have at least one sweater and some sort of jacket and/or rain jacket.
Canada is a massive country, so in terms of the best preparation, you'll need to decide where you're going first. The summer weather in the Yukon will be quite different than the summer weather in Ontario. Both will be nice but Ontario will certainly be hotter.
What are the Most Popular Summer Activities?
For those into the outdoors, summer is the best time to visit Canada. With the weather at its best, there's a lot of outdoor activities going on, whether it's hiking in the mountains or paddling around a lake. However, it's also a great time to visit cities as there's much more life in the summer with people walking around, many festivals, and more.
Hiking
Home to more wilderness than practically anywhere else in the world, it's no secret that Canada is a prime place for hiking. From coast to coast to coast, there are so many opportunities, including rugged coastal hikes, epic mountain hikes, incredible forest hikes, and so much more. You can hike in the badlands of Saskatchewan or hike to the summit of one of the Rocky Mountains. No matter what province you visit, there's a hike worth doing.
Paddle Sports on the Water
With more water than any other country on Earth (we have 70% of the world's freshwater and more coastline than any other country), there's no shortage of opportunities for paddling, whether it's canoeing, kayaking, or stand-up paddleboarding. Each and every province and territory has options for paddling. If it's the ocean you're looking for, you'll want to go to British Columbia, Nova Scotia, Prince Edward Island, New Brunswick, or Newfoundland. If its lakes, all provinces will have a plethora of opportunities. If you want to paddle around tall mountain peaks, head to western Alberta or the eastern side of BC where you'll find the Canadian Rockies.
Boating
Just like paddling, there are many opportunities for getting out on a motorized boat as well, whether its in the ocean or on a massive lake. Whether you're looking to rent your own or go on a tour, there are all sorts of possibilities across the country. Some examples include sailing in Nova Scotia, taking a cruise near Quebec City, and taking a boat tour on Okanagan Lake. These are just three of the hundreds of fun boating opportunities available.
Rafting
Another popular way to enjoy Canadian water is to go white water rafting on one of the many incredible rivers across the country. We've done a fair share of rafting ourselves, including the Kicking Horse River in BC, the Bow River and Kananaskis River in Alberta, the Ottawa River in Ontario, and the Shubenacadie River in Nova Scotia. This is an exhilarating way to get outdoors and enjoy the natural scenery.
Whale Watching
With more coastline than any other country on Earth, there's also a plethora of opportunities for whale watching in Canada. Whether you're looking to see Humpback Whales, Orca Whales, Grey Whales, and many others, they can be found in many provinces from west to east. Vancouver and Vancouver Island are the best places to spot Orcas, whereas Quebec, Newfoundland, and Nova Scotia are great places to spot Humpbacks. However, most whales can be found throughout the country at various times throughout the season. You can even get up close and personal with Beluga Whales in Churchill, Manitoba. How cool is that?
Wildlife Sightings and Tours
Canada is a wild place and that means lots of wildlife as well. In fact, if you're on a road trip, camping, canoeing, or hiking, you'll most likely spot them on your own. For example, we always see elk when we visit Jasper, Moose when we visit Newfoundland, and Big Horn Sheep when we're driving through the mountains. We've also seen bears around Nordegg, wolves near Radium Hot Springs, and deer almost everywhere we go. There's also a plethora of wildlife tours and paid attractions. For example, we went on a grizzly bear tour from Campbell River on Vancouver Island, which took us up into the inlets of British Columbia to see Grizzly Bears eating salmon out of the river. We also spent the night with wolves near Montreal, Quebec. If you're into seeing wildlife, Canada is the place to be!
Helicopter Tours
While helicopter tours also run during the winter months in some locations, the most popular time to go is during the summer when the weather is at its best. There are so many helicopter tours from coast to coast to coast, including helicopter flights over Niagara Falls, the Rocky Mountains, major cities such as Toronto, and so much more! It's a really great way to see both cities and natural attractions, giving you a birds-eye view like no other.
Fishing
Canada is wildly popular for fishing. After all, we have millions of lakes, hundreds of rivers, and more coastline than anywhere else on Earth. Whether you're looking to catch a cod in Newfoundland, hook a salmon off the coast of Vancouver, or catch a variety of trout in one of the many lakes throughout the country, there's no shortage of opportunities. Both cast fishing and fly-fishing are considered world-class.
Biking
Another popular activity is biking. This includes both road bikes and mountain bikes. For tourism, mountain bikes are often the most popular because most people want to enjoy biking on outdoor trails. You can rent bikes in most tourist destinations, as well as cities, allowing you to explore an area on your own or join a tour. One of our favourite places to rent a bike is in Vancouver, as we love to bike around Stanley Park. For the adventurous, you can also rent mountain bikes at many ski resorts, but you have to be quite skilled to mountain bike down a mountain without getting hurt. Regardless, whether you're looking to peddle around a city or a forest, there's something for everyone.
Golfing
For those into golf, Canada has hundreds of world-class golf courses all over the country. Whether you're looking to drive the ball while surrounded by the Rocky Mountains or putt next to the ocean, there's a golf course for you.
Tubing
Another popular activity, especially for locals, is tubing down the rivers that go through the many towns and cities. We live in Calgary and one of our favourite summer activities is tubing down both the Elbow River and the Bow River. But Calgary isn't the only place to go tubing. It's a very popular activity anywhere you find a relatively calm and safe river surrounded by beautiful scenery. Some of these places have now created rentals and tours for tourists, whereas others are completely local and would require you to buy a tube and go on your own. Perhaps you could join Meetup and find locals who will take you down. There are also Airbnb Experiences!
Summer Festivals
Perhaps one of the greatest things about visiting Canada during the summer is the vast amount of festivals spread out across the country. After all, Canadians only have about three months of solid summer weather and we like to enjoy it as much as possible. Whether you're looking to witness one of the world's biggest rodeos at the Calgary Stampede or enjoy one of North America's premier Folk Festivals in Winnipeg, there is a festival for everyone.
Some popular festivals include:
Montreal International Jazz Festival
Quebec City Summer Festival (FEQ)
Ottawa Blues Festival
Just for Laughs Montreal
Edmonton International Fringe Theatre Festival
Calgary Stampede
Winnipeg Folk Fest
Canadian National Exhibition, Toronto
Toronto International Film Festival
Shambhala Music Festival, BC
City Tours
Although city tours can be found throughout the year, they're certainly much more popular when the sun is out and there's no snow on the ground. Whether you're joining a tour or doing your own self-guided tour around one of Canada's great cities, the summer is the best time to do it. Stroll the streets of Old Montreal while munching on a bagel, walk around Old Quebec while admiring the only walled city north of Quebec, or walk along the seawall of Vancouver's Stanley Park. No matter where you go, touring a city or a town during the summer is a wonderful thing to do.
Canada Summer Vacation Ideas
From coast to coast to coast, summer in Canada is home to a variety of unique experiences for each and every person who visits. It's quite hard to give our favourite place, as we have so many, but here are some ideas below.
The Canadian Rockies
One of the most visited places in all of Canada is Banff National Park. Located just an hour away from Calgary, Banff and the surrounding area has been attracting people for a century. Once you see it, you'll know why. Towering granite mountain peaks, bright turquoise lakes and rivers, and lush pine forests make for one of the most beautiful destinations on Earth. Throw in a smorgasbord of outdoor activities and one of the most famous road trips on Earth – the Icefields Parkway – and its easy to see why this place has become so popular.
Vancouver
Known as one of the most beautiful cities on the planet, Vancouver is a very popular place to explore. Why? Well, because it's surrounded by both mountains and the ocean! This combination makes it such a beautiful city, unmatched in every way. It's also one of the most densely popular cities in North America, which makes it feel alive with so many things to do, places to see, and an incredible array of restaurants and bars. Throw in the fact that you can get out on the ocean or go hiking in the mountains on the same day, and its easy to see why Vancouver is so sought after.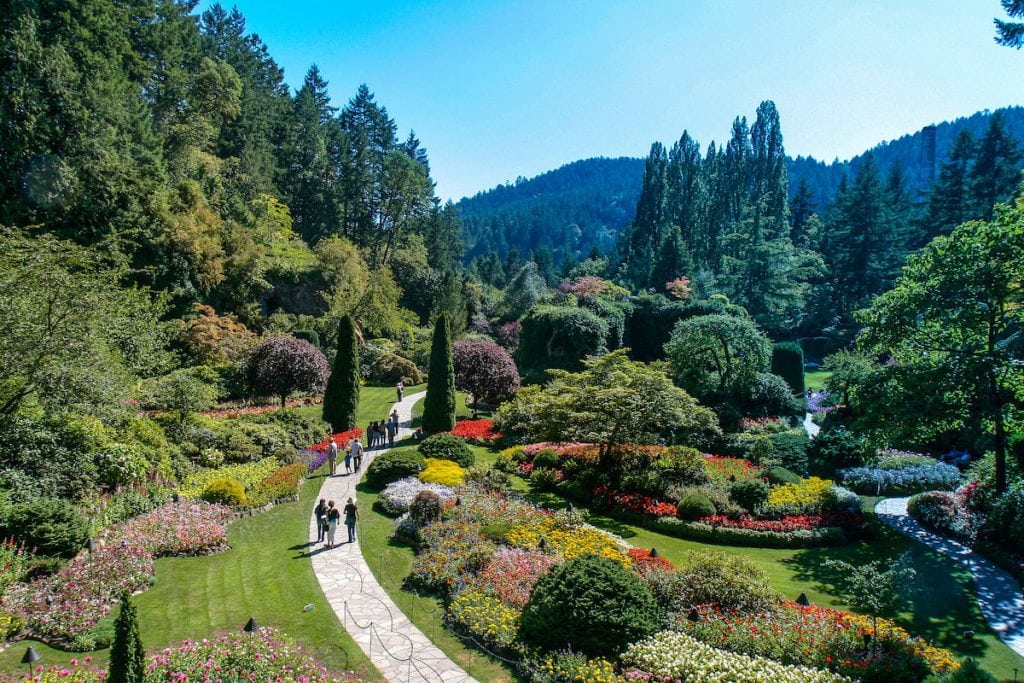 Vancouver Island
One of our favourite places to explore is Vancouver Island. There's just so much to do, including both the charming city of Victoria BC and the incredible natural attractions the rest of the island has to offer. When we visited in 2017 during our 150-day road trip, we went on a grizzly bear sightseeing tour from Campbell River, went scuba diving in Nanaimo, went surfing in Tofino, had one of the most spectacular whale watching trips of our lives near Port Renfrew, and hiked the incredible cathedral grove. Throw in a delightful walk around Butchard gardens in Victoria, and you'll see why Vancouver Island is such an incredible place to visit.
Kelowna and the Okanagan Valley
One of the most popular places in BC for Canadians to visit (especially Albertans) is Kelowna and the Okanagan Valley. Home to massive Okanagan Lake, Kelowna and area is a very popular place for boating. It's also home to some of the best wineries in the country, making it a great destination for those who love the outdoors, love being on boats, and love sampling all sorts of wine.
Montreal and Quebec City
For those looking to get a taste of Europe within Canada, you'll want to head to Montreal and Quebec City, two cities that are only a 3-hour drive apart. Montreal is the most cosmopolitan of the two, so if you're looking for a big city with lots of shopping, epic nightlife, and a lively atmosphere, Montreal is bound to please. But Quebec City is also a great place to visit. Not only is it a UNESCO World Heritage site thanks to its walled city, but there are so many things to do around the city, including incredible whale watching in Tadoussac.
Newfoundland and the Maritimes
Newfoundland is easily one of our favourite provinces in all of Canada. We love it so much and try to go back every year or two. The people, the landscapes, the music, the food, and even the charming little houses are just so unique to the rest of Canada. It's home to the oldest English-founded city in North America and is such an incredible place for outdoor attractions, including hiking, whale watching, fishing, and more. But even if you don't go all the way to "The Rock", the Maritimes are also an awesome place to visit, whether it's partying in Halifax, paddling around Hopewell Rocks in New Brunswick, or eating your way through Prince Edward Island.
Northern Canada
Canada's north, which we consider to be the Yukon, the Northwest Territories, and Nunavut are certainly best to visit in the summer. That's not to say that the winter doesn't present its own beauty and fun activities, but the summer is just easier and more predictable, especially if you're hoping to do a road trip. Whether you're visiting the wild-west-looking town of Dawson, driving the incredible Dempster Highway to Inuvik, or taking a once-in-a-lifetime Inuit tour in Nunavut, Canada's north is about as wild as it gets.
Where Will You Spend Summer in Canada?
I hope by now that you have decided to experience the summer in Canada. The hardest decision will be where to go. Whether you decide to explore the popular cities of Vancouver, Montreal, and Toronto, or explore the vast wilderness, Canada is bound to become your favourite place for experiencing the warm sunny months from June – September.
Want more summer? Check out these articles below: