Few places rival the beauty of Canada's Rocky Mountains. With majestic towns like Banff and Jasper, stunning turquoise lakes and rivers, and tall glistening mountain peaks, they attract millions of visitors each and every year. But that's only one small slice of the incredible landscapes between Vancouver and Calgary. There are also the Columbia Mountains, the Coast Mountains, the semi-desert landscapes around Kamloops, and the coastline of British Columbia's Pacific Coast. It makes for one heckuva a Canadian road trip, but what if you could see it all from the comfort of a Rocky Mountain train?
If you're looking for the best Rocky Mountain train, look no further than the world-famous luxurious Rocky Mountaineer. Some of the most romantic images that capture this side of the world feature trains cutting through the thick pine forest and through tunnels carved deep into the mountains as they make their way through some of the most stunning scenery in Canada. You can be on that train with the Rocky Mountaineer.
We recently attended a media trip for the Rocky Mountaineer, travelling from Vancouver to Banff on their First Passage to the West route. As you can imagine, it was a wonderful experience and we'd like to share it with you below. We'll start by sharing our experience on the train followed by helpful information such as Rocky Mountaineer pricing, routes, and popular questions.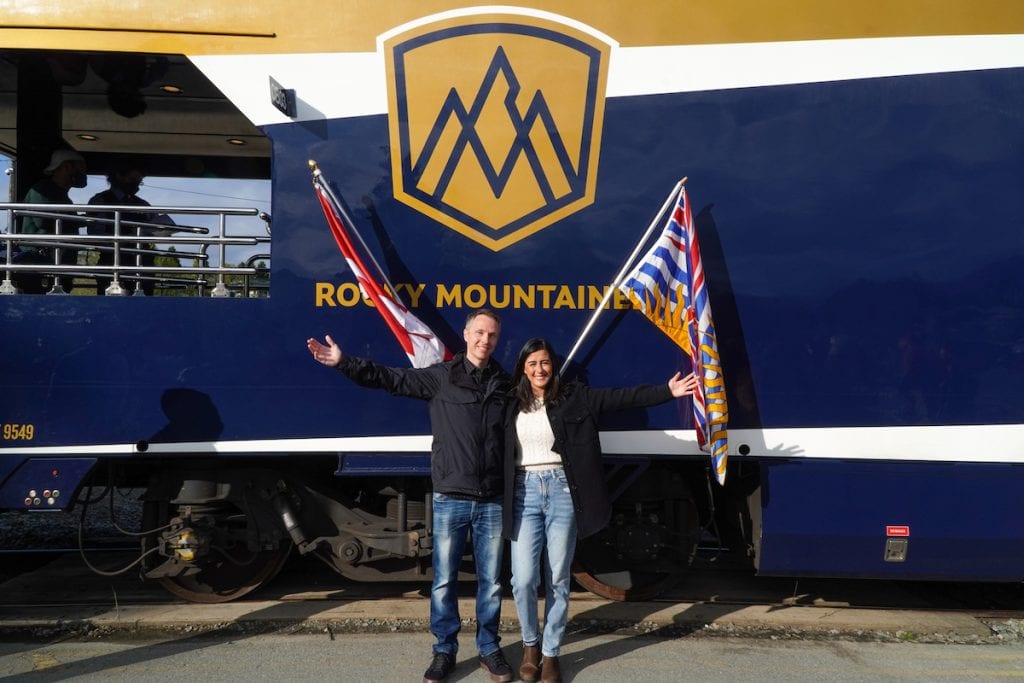 Our Rocky Mountaineer Experience from Vancouver to Banff
In May of 2022, we embarked on a media trip to experience Rocky Mountaineer's flagship route: First Passage to the West. This trip included GoldLeaf service from Vancouver to Banff with a stop in Kamloops.
Day 1: Vancouver to Kamloops
After waking up around 6 am at the Sheraton Wall Centre, we gave our bags to the staff and boarded the bus to the train station at 7 am. You won't see your bags again until you arrive at your destination so pack everything you need for the train. Once we arrived, we were shown the car we'd be travelling in for the next two days. However, before boarding, we got our customary photo in front of the Rocky Mountaineer logo, the flag of British Columbia, and the flag of Canada, which they set up next to the stairs.
We were then shown to our seats and once everyone was sitting down, we were given an explanation of the train, such as where the bathrooms were, the outdoor viewing area, when we would start eating and more. Since we were in GoldLeaf, we would be eating in the lower-level dining area. Since the dining car has actual tables, it does not fit everyone. What they do is divide the groups into two. While the first group eats, the other group is given fresh coffee or tea and a fresh Danish to munch on as well. They rotate this group the next day. By 10 am, the bar is open and you're free to order whatever you like. Coffee and Bailey's anyone?
Not long after setting off on our journey, we had our first breakfast of the trip, which started off with croissants imported from France. After all, no one does croissants better than France. We then selected from a variety of menu items, such as Eggs Benedict and Smoked Salmon Scramble, both of which were delicious.
Our journey started off in urban Vancouver before travelling through the farmlands of Fraser Valley. After seeing farmland, cows, and barns, we leisurely entered lush forests and the beginnings of the mountain ranges we'd be cruising through for most of the trip. We tried to balance out our experience as much as possible, enjoying views through the window as well as from the outdoor viewing platform, which included sticking our heads out of the side of the train to feel the wind hitting our faces. I finally understand why dogs do this in cars. Our trip started out quite sunny with blue skies and the occasional cloud. We saw a bald eagle every now and then and passed by many freight trains as well, something train buffs always seem to enjoy. We then passed by the Coast Mountains, made our way into Thompson Valley, skirted along Kamloops Lake, and eventually pulled into Kamloops for the night. From there, we boarded the buses and were taken to our hotels. You won't have much time to explore Kamloops, but if you find yourself there for a while, check out our guide to the best things to do in Kamloops.
Day 2: Kamloops to Banff
Today, we started early, departing the hotel around 6 am to make our way back to the luxurious train. We spent about 10 hours on the train on day one but were told we'd spend about 12 hours on the train on day two, thanks in part to the slower climbs into the majestic Rocky Mountains. While day one is beautiful, day two is even better as you mostly travel through the Columbia and Rocky Mountains, as well as a variety of mountain tunnels, such as the famous Spiral Tunnels just after Golden, BC.
During the day, we got to witness a variety of stunning lakes, mountain peaks, and lush pine forests. We even saw three bears, although they were too quick for a photo op. We had a mix of rain and cloud, which is to be expected in May, but there were many times when the clouds opened up for magnificent mountain views. We've seen these mountains a lot but it's always nice to see the reaction of people visiting this area for the first time.
There are also two popular tunnels we passed through on day two. The first tunnel is Connaught Tunnel, which is more than eight kilometres in length (more than five miles). What's cool about this tunnel is that it takes roughly 10 minutes to travel through. It really makes you realize how big these mountains are and the work involved to make them passable for train travel. Even better, however, is the famous Spiral Tunnels, which are located around Golden and Field, BC. These tunnels are an engineering marvel. These tunnels actually twist and turn, making their way up the mountain. They were made due to the "Big Hill", which, many decades ago, had trains moving up the mountains at a grade of 4.5%, which is quite dangerous. With pressure to complete the train tracks and make them safer, one of the railway's assistant chief engineers, J.E. Schwitzer, modelled the Spiral Tunnels after a system used in Switzerland. With a gentler grade, descents became safer and slower, spur lines and rear pushers were no longer necessary, and scheduling delays and operating costs were reduced.
How the tunnels work, and what we actually experienced coming from Kamloops to Banff, is that after climbing a moderate hill, the train goes through two short, straight tunnels on Mt. Stephen, under the Trans-Canada Highway, across the Kicking Horse River and into the Lower Spiral Tunnel in Mt. Ogden. It spirals to the left up inside the mountain for 891 metres (0.6 miles) and emerges 15 metres (50 feet) higher. The train then crosses back over the Kicking Horse River, under the highway a second time and into the 991 metres (0.6 miles) tunnel in Cathedral Mountain. The train spirals to the right, emerging 17 metres (56 feet) higher and continues to the top of Kicking Horse Pass.
It's a really cool experience because you essentially emerge on a completely different side of the mountain. However, because you're in the dark, you don't realize it until you emerge into the daylight. If you look closely inside the tunnel, you'll see that the train is pretty much making a turn the entire time, but you don't actually feel it. It's almost like an optical illusion, except that it's not an illusion at all. This was one of my highlights and something everyone enjoys.
We then travelled through the Rocky Mountains for another four hours before ending our trip in the magical town of Banff, Alberta. From here, we boarded the buses once again and were transported to our hotels on Banff Avenue. Because this was a media trip, Rocky Mountaineer treated us to some of their opt-on experiences, such as a tour of Banff and Lake Louise and a trip on the Banff Gondola, which concluded with dinner at Sky Bistro, one of the best restaurants in Banff. After two nights in Banff, we boarded an airport shuttle and made our way to Calgary.
Rocky Mountaineer Routes
The Rocky Mountaineer is a luxurious Rocky Mountain train that features three Canadian routes that cut through some of the top landscapes in both British Columbia and Alberta.
First Passage to the West
First Passage to the West is Rocky Mountaineer's flagship route and traces the footsteps of Canadian history, travelling along the railway that united Canada more than 125 years ago. It's also the Rocky Mountain train that we got to experience for ourselves, travelling from Vancouver to Banff in May 2022.
Travel through the legendary Spiral Tunnels, traverse the Continental Divide, and be inspired as you wind through mountain passes and dramatic canyons. Experience the only passenger rail service on this historic rail route by Rocky Mountaineer celebrated for connecting Canada from East to West.
Journey Through the Clouds
Journey Through the Clouds takes you from Vancouver to Jasper with a night in Kamloops. You'll travel through scenic valleys, along the mighty Fraser River, through Hell's Gate, and past the magnificent Pyramid Falls. This Rocky Mountain train route, only accessible by train, also features the majestic Mount Robson, the highest peak in the Canadian Rockies. It travels eastbound or westbound.
Rainforest to Gold Rush
Rainforest to Gold Rush is the longest route offered by Rocky Mountaineer, taking three days and two nights to reach your final destination. It takes you from Vancouver to Whistler to Quesnel to Jasper. You'll spend a night in Whistler and a night in Quesnel. This Rocky Mountain train route allows you to witness true wilderness. You'll first experience the mountain mecca of Whistler before being transported around hidden lakes and canyons while revelling in the history of the gold rush. You'll also cut through some of Canada's top scenery while making your way to Jasper, including views of Mount Robson, the Canadian Rockies' highest peak.
Due to the additional night and day, this is the most expensive route, starting at around $2,300 CAD per person.
Rockies to the Red Rocks
Rockies to the Red Rocks is a new Rocky Mountaineer route that takes place in the United States. It travels from Denver, Colorado to Utah, with an overnight in Glenwood Springs, taking you from the Rocky Mountains to the stunning red landscapes of Moab, Utah. This route is currently only offered in SilverLeaf service. Some of the highlights include vast canyons, inspiring deserts, natural archways, enchanting hoodoos, Ruby Canyon, Mount Garfield and crossing the Continental Divide. You can even start or end your journey in Las Vegas.
Rocky Mountaineer Prices
Pricing on the Rocky Mountaineer depends on the package you choose. There is a variety of options, including three different routes, experience add-ons at different destinations, and the class of service. There are also occasional promotions throughout the year. However, prices generally start at about $1,900 CAD for the two-day trip between Vancouver and Banff.
Class of Service: Silver Leaf vs Gold Leaf
There are two types of services offered on the Rocky Mountain trains in Canada.
For those on more of a budget, SilverLeaf service offers everything you need to enjoy the views while also enjoying Rocky Mountain train luxury. You'll enjoy panoramic views, tasty meals and beverages brought right to your seat, friendly hosts, and complimentary baggage transfers. SilverLeaf service enjoys a one-level train car where you will sit and eat throughout the trip.
GoldLeaf service, on the other hand, is for those who want the ultimate experience. You'll get seating on a bi-level glass dome coach car, which offers comfortable and spacious seating on the upper floor and an exclusive dining room experience on the lower floor. You'll eat in the dining room on the lower deck and relax in the upper car. The upper car is where you'll find the beautiful dome-style windows that almost wrap around the train's roof. Another important feature is the exclusive outdoor viewing platform, which gives you the opportunity to get closer to the action while also getting some fresh air. Perhaps more importantly, you'll also get a more extensive menu with elegantly plated meals prepared with local ingredients from the comfort of a dedicated dining room as well as more staff to offer a more premium-style service.
Long story short, both options will give you stunning views of the Rocky Mountains and world-class service. However, the GoldLeaf service includes some very exclusive experiences. You can't go wrong with either option but if budget is no concern, GoldLeaf is the way to go. Learn more in the table below.
| | | |
| --- | --- | --- |
| | SilverLeaf Service | GoldLeaf Service |
| Train Cars | Single level dome cars | Bi-level dome cars with a dining area on the lower level |
| Windows | Oversized glass-dome windows | Full glass-dome windows with panoramic views |
| Food and Drink | Food and drinks are served at your seat | Gourmet à la carte meals in the lower-level dining room. More extensive food and drink menu |
| Staff | 2 hosts plus one culinary staff | 3-4 hosts plus a full culinary team |
| Viewing Area | Small outdoor viewing area | Large outdoor viewing area |
| Accommodation | Comfortable rooms at mid-range hotels | Luxury rooms with options for premium room upgrades |
Popular Questions about the Rocky Mountaineer Train
While we certainly can't answer every question in this article, we have compiled answers to some of the most popular questions people have about this world-famous Rocky Mountain train.
Is Rocky Mountaineer Worth the Money?
This question is hard to answer as it's quite relative to each individual person. If you have the money, then yes, it's certainly an impressive trip to take. Everyone who takes it raves about the experience, including the train itself, the service, and of course, the views.
If budget is of no concern, I would certainly recommend the GoldLeaf Service as well. The upper-level dome windows are much better for admiring the surroundings and the large outdoor viewing area is such a great place to go and see the views unobstructed. Plus, you get dining-style seating for meals, a more extensive menu, and better service all around.
How long is the Rocky Mountaineer train ride?
This depends on a variety of things, including the route you take, and other smaller things like weather and train traffic. Generally speaking, you'll spend about 10-12 hours each day on the train. Most trips are two days in length. However, Journey Through the Clouds is a three-day trip.
Do you sleep on the Rocky Mountaineer?
No. The Rocky Mountaineer trains are meant for daytime trips only. In fact, this is one of the reasons they don't operate in the winter as well, as half of the trip would be in darkness. This Rocky Mountain train is focused on giving you the best possible chance of experiencing the scenery rather than being a method of transportation. After a day onboard the train, guests overnight in comfortable hotel accommodation.
Are meals included on the Rocky Mountaineer?
Breakfast and lunch are included on both days you're on the train, in addition to drinks and snacks. All other meals, except those included in individual packages, are on your own. For dinner, you would find a restaurant in the destination you're visiting, such as Kamloops, Whistler, Banff, and Jasper.
What is the best time of year to ride the Rocky Mountaineer?
This sort of depends on what you're looking for. May tends to have the most availability as well as slightly lower costs as it's the first month of operation and the weather fluctuates more. You'll likely still see some snow at this time of year but days might be sunny and warm or cold and rainy. June, July, and August would offer more stable warmer weather but are also the most popular times to go. Another popular month is September as it can be a great time to see the Fall in Canada.
Are drinks included on Rocky Mountaineer?
Yes. Those of you who love to sip on wine, craft beers, a variety of cocktails, or tea and coffee, will enjoy your days on the Rocky Mountaineer. Drinks are included, in addition to morning and afternoon snacks. You'll find a more extensive menu, however, if you opt for GoldLeaf service.
What should we pack for the rocky mountain train?
Since the weather can differ from season to season, especially in the mountains, we highly recommend bringing layers. We brought sweaters, rain jackets, jeans, sunglasses, and even gloves and a toque, which come in handy, especially in the month of May. Banff still had some snow, so it can be quite chilly. In addition, if you plan to spend time on the outdoor viewing deck while the train is travelling at 80km/h, it can be chilly.
Want More Things to Do?
Although the Rocky Mountaineer is a 2-3 day train excursion, there's so much more to this part of Canada. Whether you're looking to enjoy the city of Calgary or spend more time in the magical Rocky Mountains, we've got you covered. For more travel ideas, check out our detailed travel guides below.